Capture One releases new 'Pacific' & 'Infinite Peaks' Latitude Style packs
New, nature-inspired looks for the cherished Latitude series, developed by leading photographers exclusively for Capture One
Capture One, the world's premier name in photo editing software, releases new Styles in the 'Latitude' series, crafted by acclaimed commercial photographer John Schell and Fujifilm X-Photographer Bryan Minear. Their signature looks have garnered clients like Skechers and Budweiser, and these new Capture One Styles mark the first time they have been made available to anyone on any platform.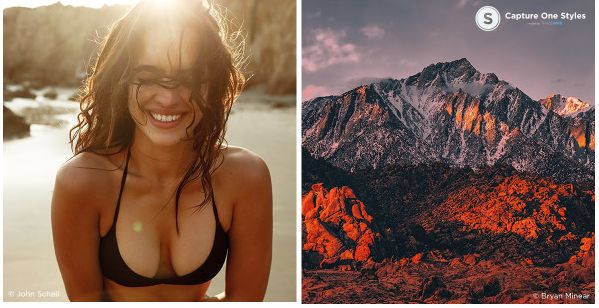 Both John and Bryan have their photographic roots anchored in nature, and their work is heavily inspired by their love for it. From the Californian coast to the foothills of the Appalachians, the new Latitude Styles reflect some of the most beautiful scenes and destinations around the world. They aim to embrace and heighten the natural aesthetic of any scene and subject, from portraits to seascapes.
Capture One Latitude Styles are precisely-developed presets that are designed and tested to work with an extensive variety of images. They adjust the overall look and feel of any image with one click and can be tuned to suit individual taste. With the option to add each Style as a layer and control its intensity, as well as use multiple layers and Styles per image, Capture One Styles can serve as a starting point, a finishing touch or to give a specific nuanced flair.
Both 'Pacific' and 'Infinite Peaks', the new Latitude Style packs, include a diverse set of Styles that complement each other, while providing enough variation to suit any scene. The wide selection of Styles offer endless possibilities to create professional and distinguished editorial images, be it fashion, street, travel, wedding, portraiture, or any other genre of your editorial work.
Pricing and Availability
Latitude 'Pacific' and 'Infinite Peaks' Style Packs are now available
The Styles can be purchased per pack or as a bundle with all 4 Style Packs in the Latitude series, and for a limited time as a bundle with only the 2 new packs:
Price per Style Pack: EUR: 39. USD: 34. GBP: 34
Price for Latitude Style kit including Infinite Peaks and Pacific (Limited offer*): EUR: 59. USD: 49. GBP: 49
Price for Latitude Style kit including Infinite Peaks, Pacific, Deep Forest, and Sunbound: EUR: 109. USD: 99. GBP: 99
*The limited offer will expire June 30th, 2019, after which the Latitude Styles can only be purchased all together or as individual packs.