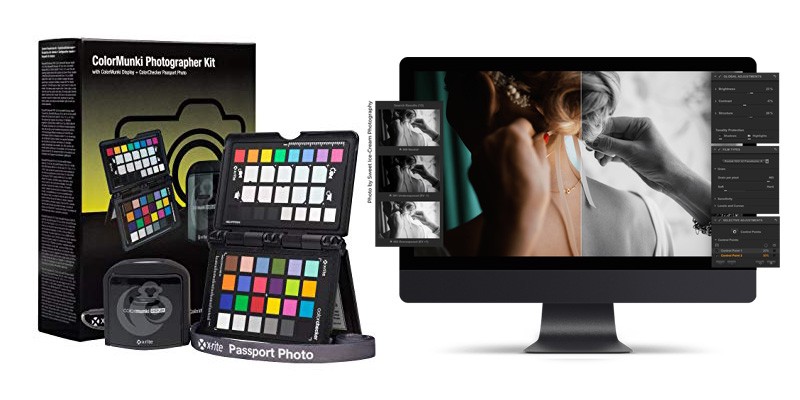 – Edit your photos with creative confidence using X-Rite and DxO Nik Collection
– Purchase a qualifying X-Rite product for a free DxO licence worth £59
– Promotion runs until 31st July 2019

X-Rite Incorporated, the world leader in colour management and measurement technologies, announces that they have teamed up with DxO to offer a full licence to Nik Collection 2018 worth £59, completely free with qualifying X-Rite products; it's the perfect partnership! Not only can photographers create and view their images in true colour with X-Rite's range of calibration products, but they can also transform their images into creative masterpieces with DxO's incredible Nik Collection plugins.

To enjoy this offer, photographers need to purchase one of the following qualifying products:
• ColorChecker Passport Photo 2
• ColorMunki Display
• ColorMunki Photographer Kit
• i1Display Pro
• i1Studio
• i1Photographer Kit

The brand-new X-Rite ColorChecker Passport Photo 2 is the perfect tool to profile your camera and is a must-have for any serious photographer to achieve consistent colour. The ColorMunki Photographer Kit combines the popular ColorMunki Display with the ColorChecker Passport Photo, allowing a simple solution for professionals to profile their cameras, displays and projectors. The i1Display Pro provides a professional level calibration for multiple monitors and projectors, whilst the i1Photographer Kit contains the i1Display Pro and ColorChecker Passport Photo in one convenient bundle, delivering the highest level of on-screen colour accuracy for monitors and camera profiling. For creatives that require a start-to-finish colour management solution, the i1Studio delivers accurate colour from capture-to-edit-to-print.

Nik Collection 2018 by DxO is a series of 7 renowned creative plugins for Adobe Photoshop, Adobe Photoshop Elements and Adobe Lightroom, providing filters, rendering and photo retouching tools to create stunning images.

Includes:
COLOR EFEX PRO
A comprehensive set of filters for colour correction, retouching, and creative effects.

SILVER EFEX PRO
The world's leading black and white software with darkroom-inspired controls.
VIVEZA
The most powerful software to selectively control colour, tonality and light in photographs.
ANALOG EFEX PRO
Explore the look and feel of classic cameras, films, and lenses.
HDR EFEX PRO
From natural to artistic, explore the full potential of HDR photography.
SHARPENER PRO
Bring out hidden details consistently with the professional's choice for image sharpening.
DFINE
Improve images with noise reduction tailored to the camera.
Photographers can claim their free licence of DxO here. The promotion runs until 31st July 2019, whereby customers must submit their request for a free DxO licence by 31st August 2019 and download the software by 31st December 2019.

European offer only