Award-winning photographer, Rachel Louise Brown, is to chair The Royal Photographic Society's new Youth Council which aims to engage younger photographers.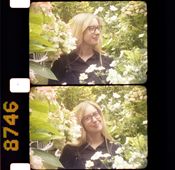 Rachel will head up a panel of professional photographers in their twenties and thirties who will advise the RPS trustees on how the Society can increase its relevance to a younger audience.
The panel members are all at different stages in their careers and work in a variety of genres; this alongside their different backgrounds, genders, ages and levels of study will give the RPS a wider perspective when catering for this new audience.
Mike Taylor, COO of The RPS says, "Now more than ever photography is intrinsic to the human experience, and it is vital that the RPS is relevant and inclusive. We are delighted to have the support of the Youth Council to help us navigate this rapidly changing world and to understand how we can ensure the greatest breadth and impact of our work."
Speaking about her new role, Brown says, "The RPS is an iconic institution with a wealth of history, resource and knowledge all bundled together with a passion for forward thinking. Having the opportunity to be a small part of its legacy is a humbling experience."
The development of the Youth Council further strengthens the ties between The Royal Photographic Society and Rachel Louise Brown.
This year The RPS is supporting Photo London's annual Pavilion Commission Programme at Somerset House (16 – 19 May) where the theme is Women in Photography and the installation 'Simulations', sponsored by Sea Containers London, celebrates Rachel's work alongside that of Mary McCartney and Susan Meiselas[1].
For further information/images/interviews with Rachel Louise Brown please contact: Suzanne Trisk on 07710 207164 or email suzanne.trisk@rps.org
Follow us on Twitter @The_RPS Follow us on Instagram @royalphotographicsociety

---
[1] Their work will appear on the sides of the Fair's main Pavilion in the central courtyard of Somerset House.