Kenro is pulling out all the stops to make its stand at The Photography Show, running at the NEC in Birmingham from Saturday March 16 to Tuesday March 19, its best ever and, following a bumper year of launches and announcements, there will be more than ever to see, handle and talk about on Kenro's stand G53 in hall 5.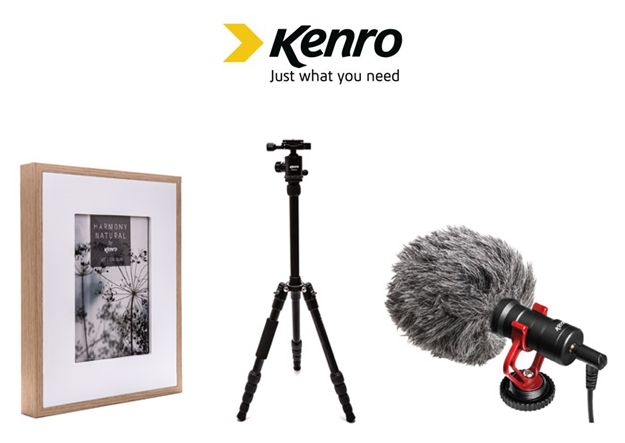 To cope with all that exciting product and to make sure that visitors have the best chance to get the full hands-on experience, the stand design has become more open plan, with a number of play tables and demonstration areas set up and plenty of experts on hand to answer any queries. It's the perfect opportunity to encounter the full Kenro range and for visitors to experience for themselves the quality and value that's on offer right across the board.
This year, Kenro is also offering up to four free interactive lighting workshops per day on their stand, given by lighting expert Luke Curtis. Workshops include LED vs. Flash (11.30am Saturday, 4.15pm Sunday, 1pm Monday), Speedlight Portraits (11.30am Sunday, 4.15pm Saturday, Monday and Tuesday), Video Lighting (1pm Saturday and Sunday, 10.30am Monday, 11am Tuesday), and Why LED? (2.30pm Saturday, Sunday and Monday, 2pm Tuesday). Come along to learn techniques, explore the kit, ask questions and take test shots.
Certain to be centre of attention will be the line-up of innovative and award winning NanGuang RGB lights, consisting of three tubes and three panels. Amongst their mouth-watering list of features is the ability to create a wide spectrum of colours without the need for filters, enabling the look of plain white or grey backgrounds to be changed in a matter of moments. Several also come with a range of special effects so that filmmakers can create everything from the flashing lights of an emergency vehicle through to a lightning flash or the flicker of a fire by simply choosing the appropriate setting on the on-board menu.
Also from NanGuang is the brand new Compac Series of LED panels, ideal for both digital studio photography and video. The space saving design of the four-strong line-up gives softbox-quality, even light in a slim form, with the bi-colour models featuring stepless colour temperature adjustment while all models boasts an impressive CRI rating of 95. Also from NanGuang is a trio of handy lighting kits: the CN-28FA kit is a three-head LED Fresnel lighting outfit that's portable and compact and able to travel anywhere, while the small MixKit comes with a Luxpad 23, Mixpad 41 and an RGB 66, a perfect set-up for product photography. The medium MixKit, meanwhile, comes with more power, featuring a Luxpad 43H, a Mixpad 106 and an RGB 173.
Despite such a strong LED line-up, however, flash is still very much on the agenda and the latest MG10 Hammerhead model from Nissin boasts a super-fast recycling time and a Guide Number of no less than GN80 at 200mm and GN 47.5 at 35mm, delivering a powerful punch at a competitive price.
Of course Kenro has a reputation for innovative and affordable products across the board, aimed at both still photographers and those working with the moving image, and plenty of these will also be on show on the stand. The new Kenro Universal Lavalier Microphone, for example, is the perfect way to achieve high quality sound in a discreet fashion, while the Kenro Cardioid Shotgun Microphone, supplied with a professional dead cat windshield, sits in a cold shoe mount and delivers pro-spec audio that immeasurably improves on a camera's built-in mic.
Other Kenro-branded products include the Karoo Small Travel Tripod, a powerful and compact Mini Speed Flash, a Universal Charger that charges the majority of standard batteries along with battery powered devices that charge via USB, a 4-in-1 film scanner that can convert photographs, transparencies, negatives and business cards to digital files and the new eco-friendly version of the popular Kenair Air Duster.
For the traditional photographer the use of filters has never gone away, and it will definitely be worth checking out the clever new Magnetic ND Filter System from Marumi. For anyone who has ever struggled in the field with fiddly screw-in filters, this new Marumi family will make a huge difference, with filters simply snapping on and off in a matter of moments. Nine strengths of square ND filters are in the line-up, along with three strengths each of hard graduated ND, soft graduated ND and reverse graduated ND. Once you've tried them out you'll never move back!
Along with all of the accessories there will, in true Kenro style, be plenty of presentational products to peruse, including the latest Candy Series of soft cover Mini Albums, Harmony Natural and Woodland frames and the smart Envoy Modern Series Frames, finished in white or black. Overall there's a huge amount to check out and there's an open invitation to TPS attendees to come along and to spend as long as they like going through the products.
"We always enjoy our annual opportunity to meet up with our customers face-to-face at TPS," says Paul Kench, "and it's a chance to show off and demonstrate our latest products and to talk about further arrivals that are in the pipeline.
"We're particularly happy with the design of our stand this year and have worked hard to make sure that we've made the best use of our space and that it will be easier than ever to put kit into the hands of visitors. We're hoping to see plenty of familiar faces over the four days and hopefully some new ones as well and we're excited about the chance to talk about all of our news."
As in previous years, Kenro can be found on Stand G53 at The Photography Show, 16-29th March, the NEC, Birmingham.