South West England photographers brave the storm to attend The Digital Imaging Show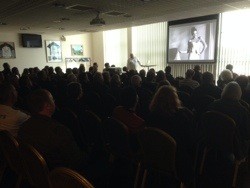 Despite the adverse weather conditions, over 100 photographers attended The Digital Imaging Show in Exeter today.
Lectures were held by Damien Lovegrove, Charlie Kaufman and Kevin Mullins on a range of photographic topics from lighting to SEO. On display at the trade show were a range of album manufacturers, photographic props and paper manufactures to name a few.
We would like to welcome the 3 new members who joined up at the show and hope you enjoy our benefits.
Next stop, the Jersey Photography Convention and then on to The Digital Imaging Show in Southampton. We look forward to welcoming more photographers to our events over the next few weeks.