The Societies prepare for Jersey Photography Convention 2013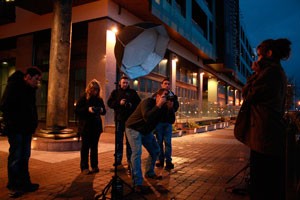 The final countdown to the Jersey Photography Convention has now begun.
The all-welcome two day event at the Radisson Blu Waterfront Hotel, St Helier is set to take place between 31 October and 1 November 2013. The Societies has lined-up a range of seminars from lighting to photographic business techniques to give attendees a broad range of topics covered. The Trade Show will feature leading photographic companies where attendees can get information on the latest equipment and services.
Limited places are now available for both the Masterclasses and John Denton's location seminar on the Friday night of the Convention.
There are only 15 places remaining on the Masterclass programme. The Harbour Safari location seminar only has 3 places remaining and we are expecting this to sell out by the end of this week, this class has been arranged as the Thursday night location seminar sold out 6 months prior to the event.
Richard P Walton will be holding 2 Masterclasses and a Superclass at the Jersey Photography Convention. The Superclass has sold out but you can attend either or both of his Masterclasses by purchasing one of the remaining Masterclass tickets.
Business guru Catherine Connor will be presenting 2 Masterclasses. Catherine is well renowned for her positive and inspirational seminars. Heading up Aspire Photography Training (voted The Best Professional Photographic Training 2012) she will also be on stand at the trade show to answer any questions. Don't forget to pick up your £50 Aspire Photography Training Voucher!
The Masterclass ticket gives you full access to all of the Masterclasses for the 2 days (or individual days if you purchase a 1 day pass). Tickets are just £10 for a day pass or £15 for the 2 day pass.
The trade show will host a range of photographic companies from album suppliers, photographic labs, insurance, online solutions for photographers, equipment distributors and much more.
Many trade show offers have been negotiated specifically for delegates.
There are also only 3 places left for the Fujifilm Photo Walk on the Friday. If you want to get hands-on with the latest Fujifilm X-Series cameras and accessories then there is no better chance the to attend this Photo Walk and experience the cameras first hand.