The Societies' Lifetime Achievement Award – Phil Jones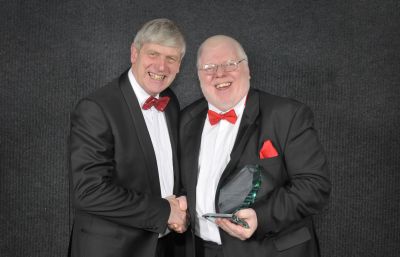 The photographic Industry and the members have decided that the winner of The Societies' Lifetime Achievement Award is none other than the prime driver of this burgeoning organisation for the past decade…the man whose dream became a goal…before it became the huge success story it is today…The Societies' own CEO Phil Jones.

A few facts and figures about 'Mr SWPP' – a man who has deployed a lifetime's commitment and dedication, not just to the photographic industry at large but also to helping literally thousands of photographers raise their games in this exciting and challenging environment.

Phil has always had a laser beam focus on the goal: his goal, since he took over the ailing SWPP organisation with its 256 members ten years ago.
That mission was always 'to help create a better standard of photography worldwide'.

Now, after a decade of blood, sweat toil and tears – and with the full-on support of his indefatigable (and some would say 'long-suffering') wife Juliet and the rest of the Jones' family franchise – Phil has transformed the SWPP into a world-class photo-body boasting a 7,000 strong UK and international membership – and which this week has hosted the largest annual photographic convention ever seen in Europe – complete with 150 seminar speakers from across the globe.

Not bad for a former studio photographer with a big overdraft.
Phil followed in the footsteps of his photographer father and recalls with nostalgia his childhood memories of garden washing lines more to be packed with black and white prints wafting in the breeze than the family's weekly wash.

At Birkenhead Photographic College he sported the obligatory long hair of the Seventies.
He worked at Debenhams for a while that might not seem relevant but it was there that he learnt the art of selling… an asset he believes still eludes many photographers today.

Back in North Wales he opened his own studio (Pictures Galore) focussing on family portraits, weddings and pictures framing.
He also spent four years as a medical photographer, providing leading surgeons with vital Imagery ahead of patient operations and medical seminars and workshops.

Phil, set about improving his own photography by joining the MPA, the then SWPP and the Guild of Wedding Photographers. And he committed to attend the annual conventions of the WPPI in the US.

It was at one of these conventions he heard whispers that the SWPP might be up for sale.
And with scant financial resource, but a surfeit of energy and ambition he negotiated a deal that enabled him to buy the organisation over a period of time.

Then he set about rebranding the SWPP, and in the so-doing created a professional magazine and a world-class seminar programme for members.

Today the SWPP – or The Societies – as it is now known, is at the vanguard of the photography profession, with an average six new members joining the 7000-strong membership every day.

Phil's wife Juliet has witnessed all the ups and the downs.

He is obsessed with finding new ways to help improve the working lives of photographers….. and he is generous to a fault."
She says: "Phil thoroughly deserves this award…and once he gets over the initial shock…I know he will cherish it forever."

Imaging industry professionals – including photographers, key retailers, manufacturers and other commercial players, have been swift and unequivocal in their response to the decision to honour Phil tonight.

Aled Oldfield, a close friend for over 30 years describes Phil as: "a strong man with a kind and generous heart." And he adds: "I was delighted when Phil took what was a massive leap of faith to buy the SWPP. This man is extremely focussed and single-minded. He is not a guy ever to be underestimated." Aled could only find one downside to the Jones persona. He said: "He really needs to give up smoking!"

Jon Cohen, Fujifilm's Business Group Manager told us: "We love the way that Phil has slowly and methodically nurtured the SWPP from its early days and early shows to the powerful, web friendly organisation that it is now. I dealt with his father too, many years ago – a real gentleman, just like his son."
Business and marketing expert Catherine Connor said: "Phil Jones relaunched the SWPP with a mission ……and that mission was to support photographers regardless of position and skill.
He reformed the SWPP on a shoestring… but balanced on that shoestring were determination, vision, grit, courage and much, much more."

She added: "He has taught us all a great deal: Phil has always stood tall – when some would have preferred that he stood small!"

In Malta, award-winning photographer Kevin Casha said of Phil: "This man comes under the heading: high achiever. His unflagging drive over the years has enabled many a shaky beginner to grow as a photographer….. and we in Malta are grateful for his continued support and guidance."

Another old friend, George Dawber commented: "I have known Phil since the early 1990s when he was Chairman of the North West Region of the MPA – and for me he hasn't changed a bit from the affable, deep thinking, considerate and understanding person he was then. My only real beef with him is that he supports Liverpool FC!"