Webinar: Fundamentals of Epic Pet Portraiture with Jessica McGovern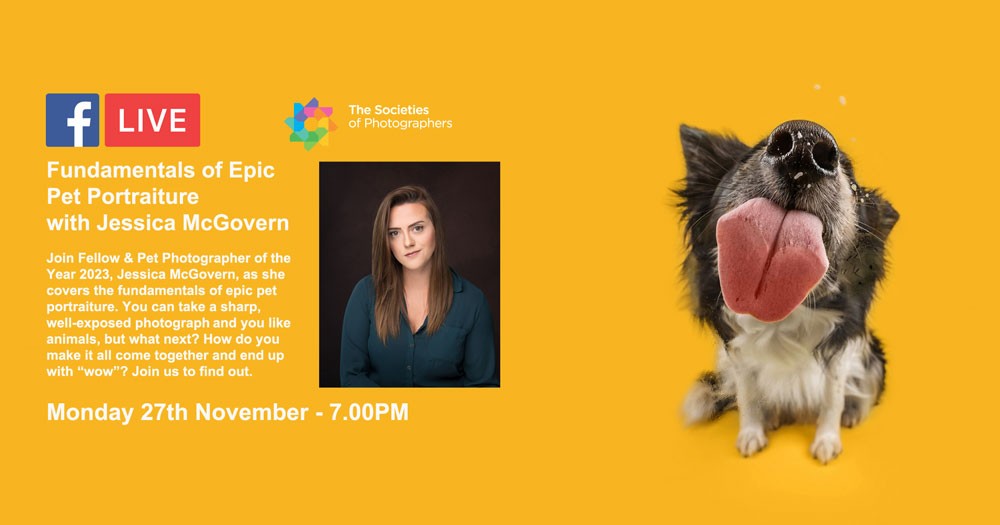 Join Fellow & Pet Photographer of the Year 2023 Jessica McGovern, as she covers the fundamentals of epic pet portraiture on the 27th November at 7pm. You can take a sharp, well-exposed photograph and you like animals, but what next? How do you make it all come together and end up with "wow"?
Shooting outside in natural light with one of the two things you "should never work with" is a whole lot harder than it looks. There's a range of secrets that, when implemented well together, result in truly "wow" images that exude impact, and these are what we'll delve into here.
The same principles can be applied to most outdoor portraiture for similarly stunning results, so these skills are both irreplaceable and wholly transferrable. Are you ready to level up? See you there!
Monday 27th November 2023 – 7.00PM
Live on: The Societies of Photographers (Members Only) Group
If you are a member of the group, you can view any of the previous webinars via the Guides tab.
If you are a member but don't use Facebook, don't worry, the archive of previous webinars can be found on our Photographic Webinars section of the website.
To obtain the password, please contact The Societies Head Office for more details.
Want to watch but not a member?
Try our Professional Membership for 2 months free! Start your FREE trial now >>> https://thesocieties.net/try/