Shining a Smart Lite on Creativity
Creativity Hub Events and Kenro announce new partnership to illuminate the Photography World with Smart Lite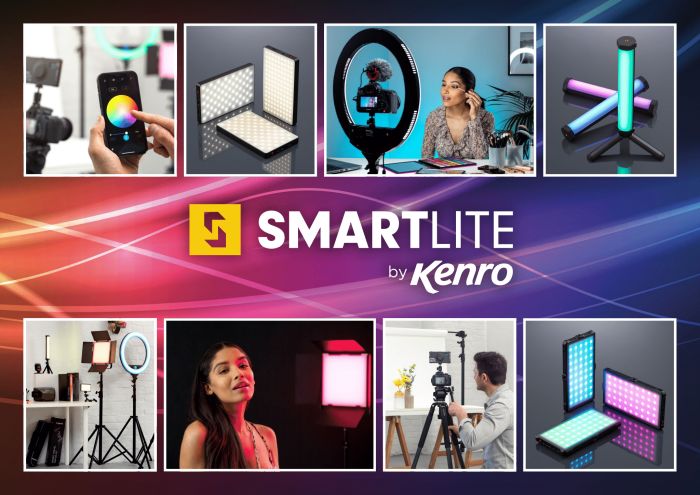 Get ready to light up your photography game! Creativity Hub Events and Kenro are thrilled to announce a partnership that's set to illuminate the UK photography world. Get ready for a dazzling display of creativity and innovation as Kenro unveils Smart Lite, the game-changing lighting range designed to brighten up your photography journey.
Creativity Hub Events has a knack for turning every photography event into a work of art, and now they're turning their creative flair towards creating fantastic fashion content and imagery for Smart Lite's native platforms, commercial campaigns, and point of sale displays in photography retailers across the UK. Your next shopping spree for camera gear might just get a whole lot more colourful!
"We're absolutely delighted to join forces with Kenro to introduce Smart Lite to the UK photography world," said Naomi Lane, Commercial Director at Creativity Hub Events. "We know how important lighting is in photography and videography, and Smart Lite is set to revolutionize the way photographers work with light. It's a fantastic opportunity to showcase the endless creative possibilities it offers."
Paul Kench, Managing Director at Kenro, expressed their enthusiasm, "Kenro has always been dedicated to lighting up photographers' lives with exceptional products, and Smart Lite is the culmination of that dedication. Our partnership with Creativity Hub Events will showcase how Smart Lite can truly elevate your photography. Get ready to shine a new light on your work!"
Both Creativity Hub Events and Kenro are dedicated to enriching the photography community, and this collaboration is a testament to their shared vision of driving innovation within the industry. By combining Creativity Hub Events' creative prowess with Kenro's technological expertise, the introduction of Smart Lite is set to ignite a new era of possibilities for photographers across the UK.
They're on a mission to make every photo better, brighter, and more beautiful. Together, they're the dynamic duo showing you all that's possible with Smart Lite – the lighting solution you've been waiting for.
As excitement builds for this illuminating partnership, photographers and enthusiasts are invited to stay tuned for updates, exclusive insights, and sneak peeks behind the scenes of Smart Lite in action.
Don't forget to mark your calendars for the next Creativity Hub Events' styled photography event "Electric Avenue" in December – it's going to be a dazzling experience you won't want to miss.
For more information on Creativity Hub Events, Kenro, and the dazzling SmartLite lighting range, visit their websites below.
Creativity Hub Events: www.creativityhubevents.com