Luminar Neo Releases NEW Generative AI Tools including GenErase, GenExpand, and GenSwap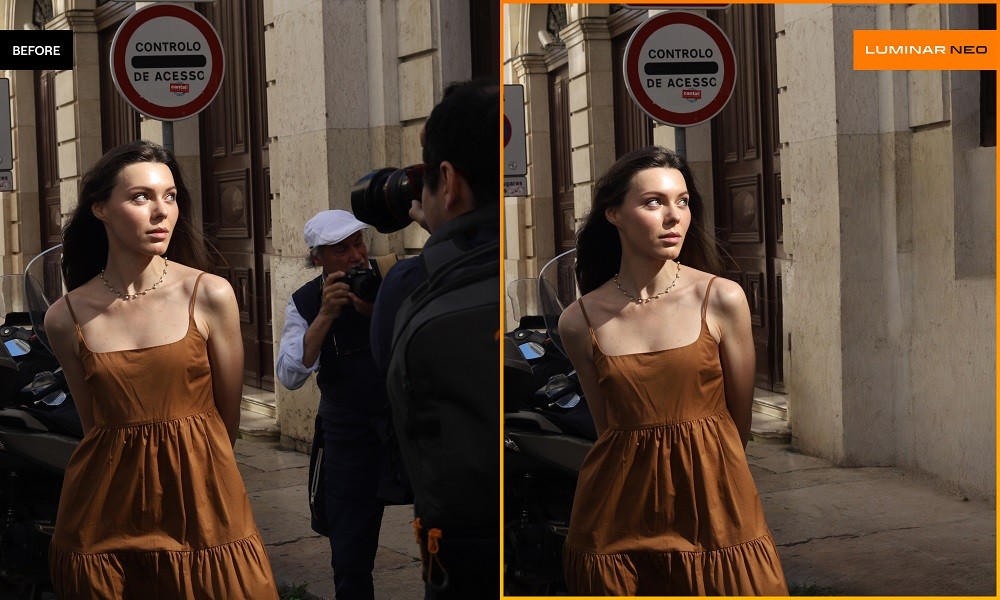 Brand-new generative AI-powered tools include GenErase, GenExpand, and GenSwap
Skylum, a leading innovator in photo editing software and the company behind the award-winning program Luminar Neo, announces the launch of its first-ever generative AI technologies within the platform – GenErase, GenExpand, and GenSwap. Luminar Neo is one of the first photo editors on the market to introduce generative technology with a Stable Diffusion model. The new AI-powered tools streamline photographers' editing challenges and empower them to create beautiful imagery by easily removing unwanted objects, expanding a canvas, or replacing and adding specific elements into a photo. The new tools will be released one-by-one throughout October, November and December, starting with GenErase on October 26, 2023.
A pioneer in AI-assistive photo editing, Luminar Neo saves photographers precious time previously spent on mundane tasks that can now be dedicated to exploring the world, creative possibilities, and pursuing their passions. The introduction of generative AI to its platform further demonstrates Skylum's position as a leader in the space, as well as its commitment to empowering photographers of any level to harness their creativity.
Secure access to GenErase before the price increases. For a limited time, enjoy an extra 15% discount on your purchase – use GenErase15 on the checkout.
The brand-new generative AI tools include:
GenErase: Anext-generation Erase tool that not only removes unwanted distractions from your images, but also intelligently replaces those areas using content-aware AI tools, providing a focused and distraction-free composition. This feature preserves the integrity of your photos by filling in the gaps with textures and other elements using AI to match the surrounding area. GenErase can seamlessly remove objects such as trash, street signs, utility poles, vehicles, graffiti, crowds, and more to preserve the beauty of the composition.
GenExpand: A revolutionary tool that empowers users to break free from traditional aspect ratios and add a new dimension to their original compositions. With GenExpand, you can effortlessly extend the boundaries of your photos, whether you're creating panoramic landscapes for vast mountain ranges, serene lakes, etc. or want to give your favorite images more breathing room to stand out against a beautifully balanced background.
GenSwap: This technology allows photographers to change the image composition by replacing or swapping objects or seamlessly adding new details generated by AI according to the user's prompt. GenSwap allows you to also enhance images by adding elements such as trees, animals, and more, transforming your photos into mesmerizing visuals. For example, change an unpleasant tree for a better looking one, add a bird to the sky, or drop a stone in the desert to make the photo complete.
"Our team at Skylum is proud to shepherd in a new era of AI photo editing that leverages our best-in-class technology to inspire and enable our community to bring their creative ideas to life," said Ivan Kutanin, CEO of Skylum. "As we continue to expand our suite of tools, we're excited to incorporate generative AI into our software. The new AI features provide photographers with the latest technology to produce visual storytelling beyond their imagination, but not as a substitute to replace their real-life experiences for such an essential art form."
Platform upgrades and generative technologies will be available to monthly, annual and 2-year Pro, Explore, and Ultimate plan subscribers. Special prices for new users range from $14.95 to $269 until October 28, 2023. Existing Luminar Neo lifetime (perpetual) license owners can opt to switch to the Pro annual subscription at a special price ($69 for the first year until October 28, 2023) or they can make a one-time purchase of the 2023/24 Creative Journey Pass for $69 (special price until October 28, 2023). This pass will grant access to generative technologies until August 16, 2024, as well as all new features announced and released before that date (Extensions excluded).
At the frontier of AI-assistive photo editing, Skylum is paving the way toward a future where AI becomes second nature during the editing stage, saving photographers' hours behind the screen, in a manner that serves them, not replaces them.
Secure access to GenErase before the price increases. For a limited time, enjoy an extra 15% discount on your purchase – use GenErase15 on the checkout.