Webinar: Don't Drop Your Prices, Lift Your Game with Brett Florens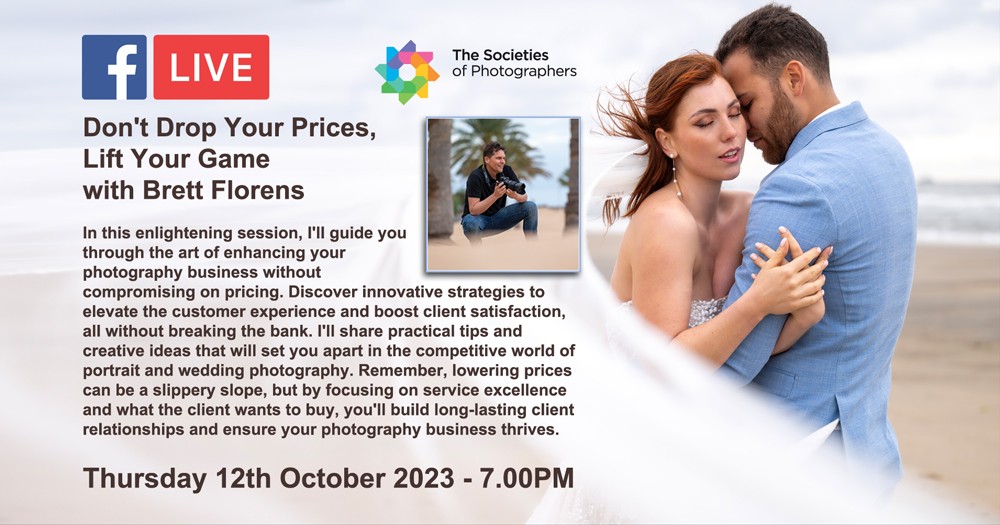 Join me, Brett Florens, in my webinar only for The Societies of Photographers members titled "Don't Drop Your Prices, Lift Your Game." In this enlightening session, I'll guide you through the art of enhancing your photography business without compromising on pricing. Discover innovative strategies to elevate the customer experience and boost client satisfaction, all without breaking the bank. I'll share practical tips and creative ideas that will set you apart in the competitive world of portrait and wedding photography. Remember, lowering prices can be a slippery slope, but by focusing on service excellence and what the client wants to buy, you'll build long-lasting client relationships and ensure your photography business thrives. See you there!
Thursday 12th October 2023 – 7.00PM
Live on: The Societies of Photographers (Members Only) Group
If you are a member of the group, you can view any of the previous webinars via the Guides tab.
If you are a member but don't use Facebook, don't worry, the archive of previous webinars can be found on our Photographic Webinars section of the website.
To obtain the password, please contact The Societies Head Office for more details.
Want to watch but not a member?
Try our Professional Membership for 2 months free! Start your FREE trial now >>> https://thesocieties.net/try/