Webinar: Achieving Photography Excellence: Practical Strategies for Success with Kelly Brown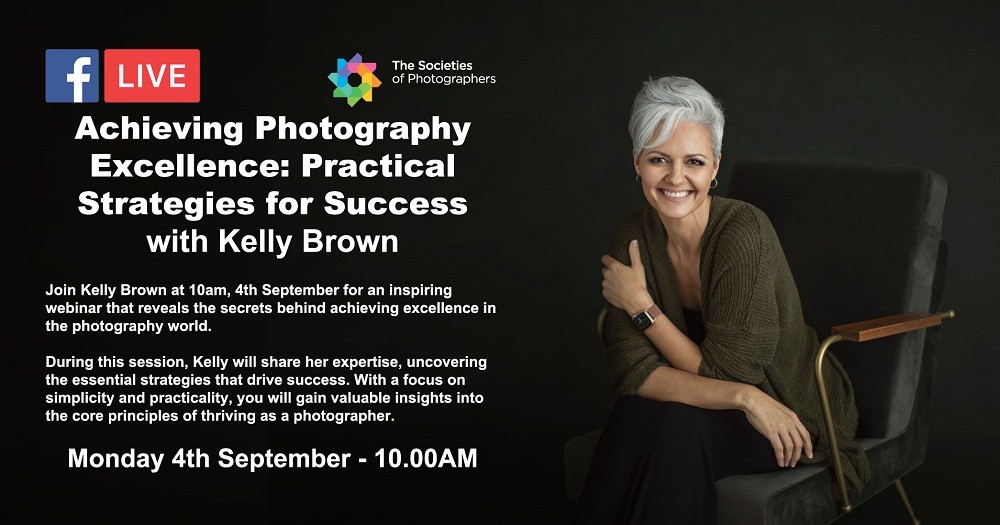 Join Kelly Brown at 10am, 4th September for an inspiring webinar that reveals the secrets behind achieving excellence in the photography world.
During this session, Kelly will share her expertise, uncovering the essential strategies that drive success. With a focus on simplicity and practicality, you will gain valuable insights into the core principles of thriving as a photographer.
Key takeaways will include:
Elevating Skills: Explore the art of continuous improvement through practice and experimentation. Discover how honing technical skills can set one apart and contribute to a successful photography journey.
Crafting Identity: Delve into the process of finding a unique photographic style, as Kelly shares the significance of creative identity in achieving recognition.
Effective Self-Promotion: Uncover the secrets of effective self-promotion, leveraging social media, online platforms, and networking to amplify your reach and attract potential clients.
Overcoming Challenges: Gain the resilience and determination to overcome setbacks, rejection, and creative blocks, transforming them into steppingstones towards your goals.
Harmonizing Art and Commerce: Gain insights into the delicate balance between creative expression and running a successful photography business. Kelly will provide actionable advice on maintaining artistic integrity while achieving financial stability.
This webinar promises to offer a wealth of practical advice and inspiration to photographers of all levels. Join Kelly Brown as she leads you on a journey to becoming a thriving photographer, where dedication and creativity intersect to shape a remarkable career.
Monday 4th September 2023 – 10.00AM
Live on: The Societies of Photographers (Members Only) Group
If you are a member of the group, you can view any of the previous webinars via the Guides tab.
If you are a member but don't use Facebook, don't worry, the archive of previous webinars can be found on our Photographic Webinars section of the website.
To obtain the password, please contact The Societies Head Office for more details.
Want to watch but not a member?
Try our Professional Membership for 2 months free! Start your FREE trial now >>> https://thesocieties.net/try/