Pushing the boundary for image capture
Expanding possibilities for creative images with the vastly improved new PavoTube II 15C/30C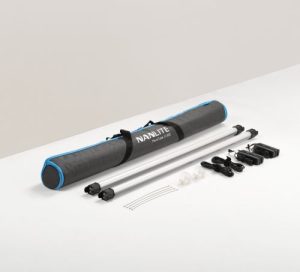 NANLITE announce the latest in their lighting technology, with the new PavoTube II. Having listened to commercial production teams, film crews and photographers across the globe the all new PavoTube II utilise RGBWW colour mixing technology with excellent colour rendition and accurate colour reproduction, making them the perfect companion on any shoot where you need to bring colourful visions to life.
Wider CCT range of 2700-7500K with G/M±150 adjustment allows for more comprehensive lighting options during different times of the day, making it easier to shoot photos and videos in varied environments. Combined with more power PavoTube II 15C and PavoTube II 30C are 10% and 20% brighter respectively. Users can be confident in terms of intensity for use as a key light, fill light, as well as other applications.
The On-board PavoTube II 15C/30C control has been optimised with a much more intuitive two-knob operation: with one short press of the dimmer button instantly reinstating the previous intensity setting, providing a convenient and smooth lighting control experience.
PavoTube II 15C/30C have built-in Bluetooth and 2.4G modules making them easily controllable via the NANLINK APP, further expanding on functionality with multiple parameters being customisable under CCT/HSI/FX modes for more intelligent wireless control. All lights also support wired DMX/RDM for control in groups.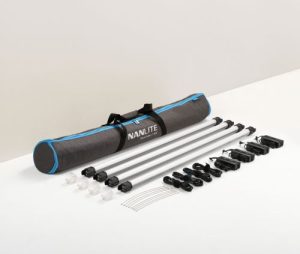 PavoTube II 15C/30C incorporate a USB Type-C port that enable PD3.0(Power Delivery) charging, as well as an opportunity to update the firmware. The PavoTube II 15C has a built in 14.8V/2200aAM lithium battery and PavoTube II 30C a 14.8V/4400mAH lithium battery, providing the ability to create images, almost anywhere. They can also be powered by connecting to the included 15V/2A and 15V/4A power adapter respectively.
LED chips on PavoTube II 15C/30C are obscured with innovated diffusion materials. Soft and even emission ensures better performance for shooting highly reflective objects. The illumination area has also been enlarged by shortening the end caps.
Built-in effects in PavoTube II 15C/30C increase to 15 from the original 6.
A variety of accessories have been tailored for PavoTube II 15C/30C, including barndoor & eggcrate clips and floor stands. By continuously adding items to the collection, the lights will certainly offer unlimited light shaping possibilities, well into the future.
PavoTube II 15C&30C Key Features:
• RGBWW Colour Mixing Technology
• High colour rendition scores, CRI Avg 97, TLCI Avg 98, TM-30 Rf Avg 94, TM-30 Rg Avg 101
10% and 20% brighter respectively than previous version
• Wider CCT Range of 2700K-7500K
• G/M±150 adjustment functionality
• More power in the same size with PavoTube II 15C/30C 10% and 20% brighter respectively
• Two knobs and one button for intuitive operation
• Multiple control methods, including 2.4G, Bluetooth, NANLINK APP, DMX/RDM
• PD3.0 (Power Delivery) charging, power supplying and firmware updating via the Type-C port
• 15 Built-in practical effects
• Extended illumination area with shortened caps on both ends
• LED chips obscured with innovated diffusion materials
Pricing & Availability:
Nanlite Pavotube II 15C 1 Kit Tube SRP (£) INC VAT 226.80
Nanlite Pavotube II 15C 2 Kit Tubes SRP (£) INC VAT 402.00
Nanlite Pavotube II 15C 4 Kit Tubes SRP (£) INC VAT 795.60
Nanlite Pavotube II 30C 1 Kit Tube SRP (£) INC VAT 330.00
Nanlite Pavotube II 30C 2 Kit Tubes SRP (£) INC VAT 619.20
Nanlite Pavotube II 30C 4 Kit Tubes SRP (£) INC VAT 1228.80
Available from April 2023
For additional information: www.nanlite.co.uk