Fast, Futureproof Printing for Pro Labs from Latest Printer Innovation
FUJIFILM UK has announced the launch of its new FUJIFILM Frontier LP9700 silver halide Minilab designed to meet even the most demanding of photo printing environments.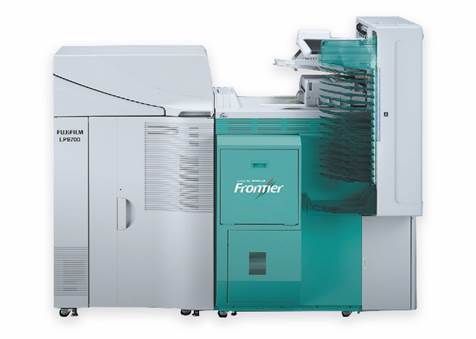 This latest generation silver halide Minilab printer delivers the highest quality output and fast, powerful processing of photo prints ranging from 6"x4" to 12"x10" at a rate of up to 2,117 prints per hour.
According to Futuresource research, the photo prints market could increase by 3.64 per cent to be worth £328m by 2024. In response to this, FUJIFILM's new Frontier LP9700 will provide a dependable machine that delivers high speed processing without compromising quality.
Leyton Prosser, Group Technical Manager Fujifilm UK says: "Now more than ever, consumers are purchasing a greater amount of a wider array of photo print products. The introduction of the new Frontier LP9700 silver halide Minilab enables busy photographic labs to exceed their customer expectations in terms of high-speed performance coupled with outstanding print quality."
Using its industry leading laser exposure technology and best-in-class image processing the Frontier LP9700 ensures the best quality from photo prints can be produced from images taken on any device whilst achieving fastest processing across a breadth of products. This includes producing panoramas, square prints, collages, calendars, cards, enlarged prints of 12"x18" and can print on ultra-thin Album Paper XS for use in Photobooks for the first time.
Leyton adds: "The way people are taking photos is changing, the Frontier LP9700 uses industry-leading laser exposure technology and cutting-edge image processing designed to deliver the speed and capacity to meet the most challenging of photo processing environments. The LP9700 provides all the capabilities of reproducing fine detail, vivid colour tones and definition, enabling the production of the highest quality photo prints that customers expect from their photo lab.
"This latest generation silver halide Minilab from Fujifilm aims to ensure photo labs have the best possible photo printing equipment in their businesses to deliver the image processing and exceptionally high-quality output to help support the future growth of their photo printing business" For more information visit: https://www.fujifilm.com/uk/en/business/photofinishing/frontier/lp9700