Webinar: Time Management for Photographers with Michelle Szpak LSWPP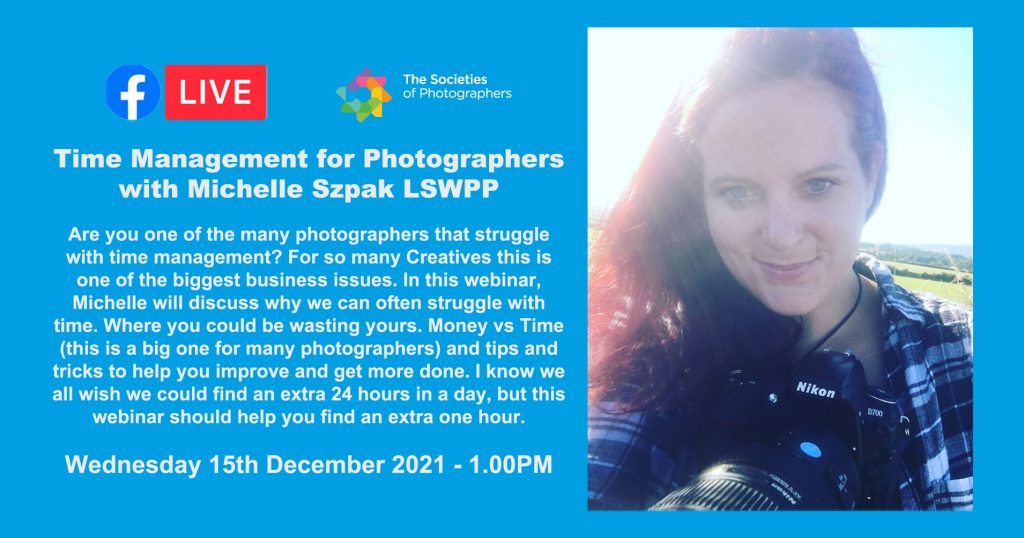 Are you one of the many photographers that struggle with time management? For so many Creatives this is one of the biggest business issues. In this webinar, Michelle will discuss why we can often struggle with time. Where you could be wasting yours. Money vs Time (this is a big one for many photographers) and tips and tricks to help you improve and get more done. I know we all wish we could find an extra 24 hours in a day, but this webinar should help you find an extra one hour.
Wednesday 15th December 2021 – 1.00PM
Live on: The Societies of Photographers (Members Only) Group
If you are a member of the group, you can view any of the previous webinars via the Guides tab.
If you are a member but don't use Facebook, don't worry, the archive of previous webinars can be found on our Photographic Webinars section of the website.
To obtain the password, please contact The Societies Head Office for more details.