Nik Collection 4.2: Optimized Experience for Adobe Photoshop Users on Mac M1
The creative suite also improves the performance of its software plugin, Nik Silver Efex, the indisputable leader in black-and-white conversion.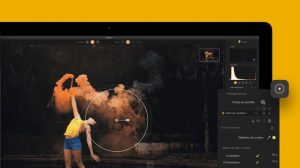 Nik Collection, which sets the standard for creative photography, combines 250 professional-quality presets with the exceptional flexibility of U Point™ local adjustment technology. Its eight software plugins address every aspect of creative photography, including color and HDR photography, black-and-white conversion, and analog simulation.
"Native M1" Adobe Photoshop compatibility
Nik Collection 4.2 can be used with Adobe Photoshop CC in native mode on Apple computers with a M1 processor (version 22.3 and up).
"Users of Photoshop 22.3 (and later) working on a Mac M1 can run it in 'native' mode or with the Rosetta emulator. Up until now, they had to use Rosetta to be able to run Nik Collection." recalls Jean-Marc Alexia, Vice President Product Strategy. "With the 4.2 version of Nik Collection, users can now opt to run the software in 'M1 native' mode and enjoy an optimized user experience."
Nik Collection 4.2 also makes Nik Silver Efex and Nik Viveza compatible with the latest version of Capture One.
Improved responsiveness for Nik Silver Efex
The Nik Collection's flagship software plugin, Nik Silver Efex, features a range of exclusive presets and effects designed to simulate classic analog films, including Kodak Tri-X 400, Ilford Delta 100, Fuji Neopan, and more. Its range of customized presets lets users vary the grain structure and contrast characteristics of their photos to accurately reproduce some of the most iconic black-and-white films in the world.
With Nik Collection 4.2, Nik Silver Efex has once again improved its U Point technology. Control Points, which make it possible to locally adjust contrast, edit brightness, and structure specific areas in the image with infinite precision, have become even more responsive. The photographer's workflow has become even faster.
Price & availability
Nik Collection 4.2 (Windows and macOS) is now available for download from the DxO website (https ://shop.dxo.com/photo-software/dxo-nikcollection) for the special price of £88.99 instead of £133 and £54.99 instead of £69 for the upgrade until October 10, 2021.
Photographers who own Nik Collection 3 or later can purchase an upgrade by signing into their accounts. A full, one-month trial version of Nik Collection 4 is available on the DxO website: https://nikcollection.dxo.com/download/.