The Ideal Client Workshop Webinar by Gillian Devine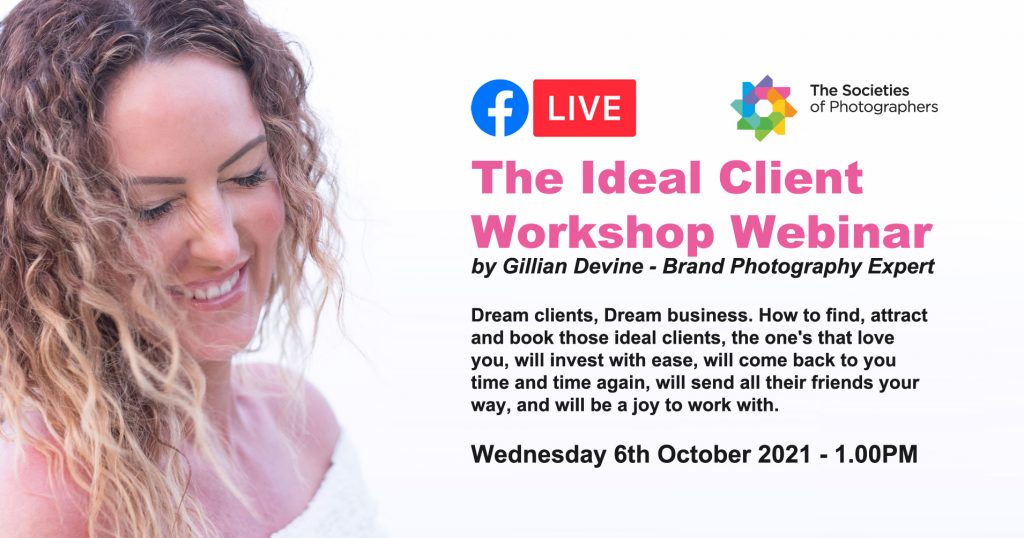 Dream clients, Dream business. How to find, attract and book those ideal clients, the one's that love you, will invest with ease, will come back to you time and time again, will send all their friends your way, and will be a joy to work with.
Knowing your ideal client makes business and marketing so much easier and in turn makes your business life more profitable and joyful.
Let me show you in this webinar…
what an ideal client is
why it's important to know and understand your ideal client, the tangible benefits to your business
how to start, the work you need to do to find and attract your own ideal clients
Wednesday 6th October 2021 – 1.00PM
Live on: The Societies of Photographers (Members Only) Group
If you are a member of the group, you can view any of the previous webinars via the Guides tab.
If you are a member but don't use Facebook, don't worry the archive of previous webinars can be found on our Photographic Webinars section of the website.
To obtain the password please contact The Societies Head Office for more details.