Introducing Element MII Fluid Video Monopod Ultimate Footage Smoothness in just 1Kg
Optimum performance in a compact monopod unrivalled for lightness
Element MII Fluid Video Monopod is the lightest video monopod kit on the market at only 1Kg – perfect for on-the-go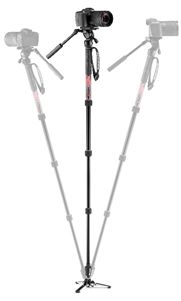 Extra smooth control on tilting and panning, thanks to Manfrotto's Fluid Drag System on the head and the patented fluid base
Simple and exceptionally good value for money, bringing high quality results within the reach of all
Building on last year's successful launch of the Element MII collection, which stands for MADE IN ITALY, the arrival of the new ELEMENT MII Fluid Video Monopod completes the range.
The go-to product for hobbyist and traveler videographers, this ultra-portable fluid monopod, is ideal for shooting weddings, corporate videos, interviews and documentaries and all those dynamic situations where agility and precision really count.
Compact, lightweight and brilliantly smooth, it combines sophisticated performance with simplicity of use. It's quick and easy to both fold down and pack away and works perfectly for CSC and DSLR cameras.
The ELEMENT MII Video Monopod is the first in the Manfrotto range to incorporate the new high-performing, ergonomic twist locks. These make set-up and adjustment much easier and more comfortable, while also offering maximum grip, quick leg opening and extreme compactness. The locking mechanism
The new Video Monopod also has an incredibly smooth panning action, thanks to the patented, lightweight fluid cartridge in the base. Leveraging the judder-free base sphere, tilt position can be reached on the most uneven surfaces, allowing users to take advantage of pan fluidity in all sorts of conditions.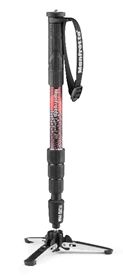 To meet the differing needs of amateur videographers, the Element MII Fluid Video Monopod comes stand-alone or as a kit. The stand-alone version presents a lightweight aluminium body. Apart from making this an easy-to-carry product, this durable aluminium design means it can stay totally rigid when the sections are fully open, while being able to support loads up to 16 Kg. The kit differs slightly. It incorporates a non-detachable compact fluid video head which, thanks to the Manfrotto Fluid Drag System, gives ultra-smooth and flawless tilting. It is supremely light and stable, being able to support up to 4Kg.
ELEMENT MII Video Monopod Kit has been engineered to deliver maximum portability, with a removable, collapsible pan bar and fully foldable, extra-lightweight head and base feet. The entire kit weighs just 1Kg and folds to a compact length of 60cm. Able to be collapsed, packed away in no time and carried anywhere with ease, this kit truly offers best-in-class stability that's perfect for on-the-go.
Manfrotto is the world leader in photography, videography, imaging equipment and accessories. Like all Manfrotto products, the Element MII Fluid Video Monopod is made to the highest quality and design standards. Aside from its wealth of high-performing features, the beautiful aesthetics and striking red leg graphics put it in a class apart.
The ELEMENT MII Video Monopod is available from £79.95. For more information head to www.manfrotto.com/uk-en/