TAMRON announces first lens for FUJIFILM X-mount; also available in Sony E-mount
Tamron Co., Ltd, a leading manufacturer of optics for diverse applications, announces the development of its first lens for FUJIFILM X-mount and Sony E-mount cameras simultaneously.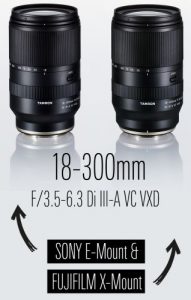 Since the launch of the 28-75mm F/2.8 Di III RXD (Model A036), a fast-aperture standard zoom lens for Sony E-mount full-frame mirrorless cameras in 2018, TAMRON has continually expanded its line of lenses for Sony mirrorless cameras. The popularity and wide adoption of these lenses prompted many user requests for the manufacture of the lens for other camera brands.
As a specialist in the all-in-one zoom lens category, TAMRON recognized the potential to develop the first all-in-one zoom lens for the FUJIFILM X-mount. The 18-300mm F/3.5-6.3 Di III-A VC VXD (Model B061) is the world's first1 all-in-one zoom lens for Sony and FUJIFILM APS-C mirrorless cameras featuring a 16.6x zoom ratio. To provide the pleasure of photography to more people around the world, TAMRON will continue to develop unique products and expand the number of lenses compatible with more camera brands.
Product Name:
18-300mm F/3.5-6.3 Di III-A VC VXD (Model B061) For Sony E-Mount / FUJIFILM X-Mount
Date of Launch:
Planned within 2021
Check out Tamron website for more details