Wiltshire Air Ambulance – Covid Assignment March 2021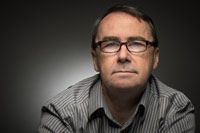 Societies' Fellow and multiple-awards winner, Terry Donnelly, talks to Mike McNamee
The work of an emergency medical crew working on an air ambulance is demanding, not only in the medical critical care they provide but, in the airmanship, and unpredictable environments they often find themselves working in when called into action.
Typically, within minutes, an air ambulance HEMS (Helicopter Emergency Medical Service) crew can go from the calm comfortable environment of the control room at the airbase, to finding themselves at an incident fighting to save patients' lives. (Wiltshire Air Ambulance can reach anywhere within Wiltshire within 11 minutes of receiving a dispatch call.)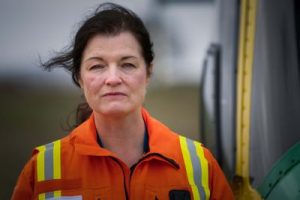 But what about working during the COVID-19 pandemic? Terry Donnelly had photographed a photo assignment with Wiltshire Air Ambulance in 2019 capturing the HEMS crew going about their daily duties and he returned in March of 2021 to capture image s of how the service had adapted and were coping during the pandemic.
To preserve the COVID-free operation of the service, Terry entered the HEMS work bubble following his self-imposed isolation period prior to travelling, and also receiving negative test results for COVID-19 upon arrival at the airbase. He remained in that work bubble until he left a few days later.
The gruelling challenges faced by air ambulance pilots and paramedics during the coronavirus pandemic has been laid bare for all to see in the series of images released by Terry, who is a Sony Europe Imaging Ambassador and works to bring images to life that tell true life stories. He was granted unprecedented behind-the-scenes access at Wiltshire Air Ambulance working with the HEMS crew over several days.
Flying in the helicopter on both day and night missions, as well as travelling in a Rapid Response Vehicle (car), his pictures capture the essence of the HEMS crew in action. These include pictures that show marks left on the face of critical-care paramedic Joanne Gilbert, caused by the personal protective equipment (PPE) the crew have been required to wear during their day-to-day operations. Other pictures show the HEMS crew wearing PPE while operating the aircraft, and also when attending emergency incidents. PPE equipment shown ranged from medical face coverings to full hazmat suits.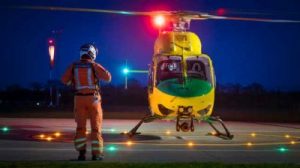 You would be forgiven for thinking these images come straight from a film set, but they show the real-life trials and tribulations of air ambulance critical-care medics working on the front line through a pandemic.
Terry explained that when attending incidents, the helicopter could be landing in a farmer's field, a car park, anywhere that was safe, and as close as possible to the incident. They just never knew how far they might have to travel on foot to reach the patient. The need to wear PPE equipment was an additional factor that made the foot journey that much more difficult at times.
From a photography point of view Terry had to travel ultralight and a lot of what he shot was taken on Sony's compact full-frame A7C cameras coupled to Sony's compact trio of prime lenses, either the FE 24mm f/2.8, FE 40mm f/2.5 or the 50mm f/2.5. On occasion he also shot on Sony A9s and G Master lenses, but his first choice was to be compact and light. In the helicopter both weight and size are important factors for equipment choice. Everything has to be stowed securely, with nothing loose that could move around the cabin. One pleasant surprise Terry did get was during the weigh-in when the pilot was calculating fuel loads – he had lost a half stone in weight since his last visit (that's 3.17kg to the youngsters reading) and that was a good start to the day!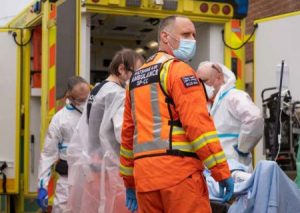 Terry wore his pair of Sony A7C cameras on neck straps, one fitted with the compact 24mm G lens, and one fitted with either the compact 40mm or 50mm G lens. The Sony A7C weighs 509g including the battery, the lenses weigh approximately 160g each. The combined weight of camera and lens made a miserly 670g. This combination, of course, features a full-frame sensor, fast-aperture lenses in a small size with extremely manageable weight – ideal for this assignment.
Terry explained that his main photographic concern was being able to capture the images as they evolved, regardless of the lighting available along with the unpredictable conditions presented. His choice of the compact prime lenses was a good one; they are smaller and lightweight, but also have wide apertures (f/2.5 for the 40 and 50mm, and f/2.8 for the 24mm), ideal for low-light conditions and when needing to isolate the subject from the background. They also feature twin linear motors and thus fast and accurate to focus, even in low light. The small form factor of the full frame Sony A7C camera combined with the compact G lenses meant Terry was not as noticeable as a photographer when attending an incident. Although full permissions were always obtained, being less noticeable was nonetheless beneficial. Using ultra-lightweight compact kit that delivers excellent full-frame quality is not just resigned to this type of work though and he will be continuing to use this set-up for future work assignments, as well as street and landscape photography.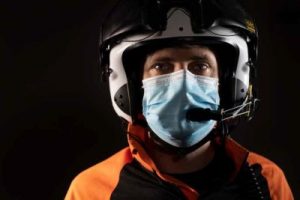 During 2020 Wiltshire Air Ambulance was called to a record number of incidents, 1,238 in total, as pilots and paramedics responded up to 19 hours each day to life-threatening emergencies across Wiltshire, Bath and surrounding areas.
At the same time, the charity's income saw a loss of £500,000 due to cancelled celebrations and community fund-raising events in their 30th birthday year.
Critical care paramedic Paul Rock – pictured in a full hazmat suit to attend an incident – said: 'We've had to alter our operations significantly in the past year and it hasn't been easy, but I'm extremely proud of how we've all pulled together as a team to ensure our service hasn't been affected.'
Terry Donnelly told us that: 'Having worked with Wiltshire Air Ambulance on a photography project in 2019, it was really interesting to see firsthand how much life has changed for the aircrew since COVID-19 arrived. I have witnessed the sheer determination and devotion the crew at Wiltshire Air Ambulance have to give critical care to their patients and to help save lives.'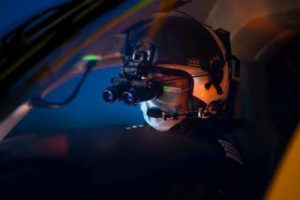 'They had to make changes to their helicopter and wear hot, uncomfortable PPE just to carry out their work. Their job role is multi-skilled and extremely demanding, and the way they have adapted to and coped with the additional pressures whilst working on the front line during a pandemic has been nothing short of valiant over the last 12 months.'
It costs £3.75 million each year to keep Wiltshire Air Ambulance flying. Across the United Kingdom they are one of 21 air ambulance charities who rely on public donations to continue saving lives. They receive no regular direct funding from the government or National Lottery grants.
Patron to Wiltshire Air Ambulance is HRH The Duchess of Cornwall.
HRH The Duke of Cambridge was at one time an air ambulance pilot in the UK.
Wiltshire Air Ambulance has been saving lives for more than 30 years. It is operational up to 19 hours a day, 365 days a year, in Wiltshire, Bath and surrounding areas. The charity has been operating on the front line throughout the coronavirus pandemic.
Wiltshire Air Ambulance is a charity and relies on donations to keep saving lives. It receives no regular direct funding from the Government or National Lottery grants. It costs £3.75 million a year to keep the air ambulance flying, that's just over £10,000 per day.
Wiltshire Air Ambulance is called to, on average, three incidents a day in its helicopter and Rapid Response Vehicles (cars). In 2020 the charity was called to 1,238 incidents, with around one in three involving cardiac emergencies.*
Its paramedics are employed by South Western Ambulance Service NHS Foundation Trust and seconded to Wiltshire Air Ambulance. Wiltshire Air Ambulance pays around 50% of the paramedic costs, including for training.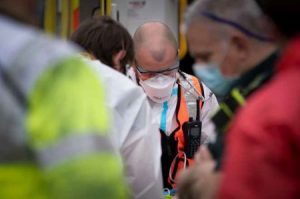 For more information about Wiltshire Air Ambulance, go to www.wiltshireairambulance.co.uk.
Terry Donnelly is a freelance photographer based in Liverpool,England, and is a Sony Europe Imaging Ambassador.
www.terrydonnelly.co.uk @terrydonnelly01.