Webinar: Choosing the Clients YOU want! with Adrian and Bergit Barnett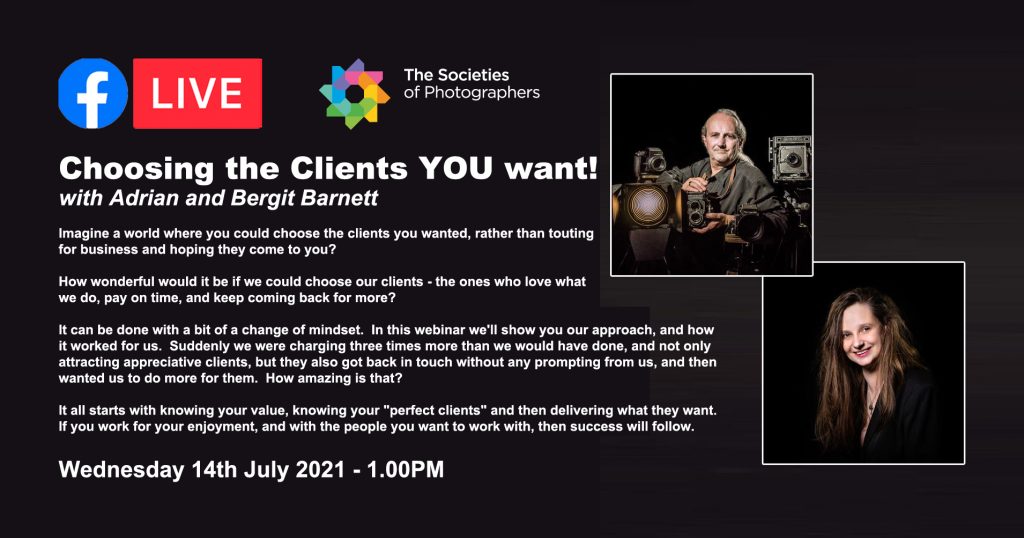 Imagine a world where you could choose the clients you wanted, rather than touting for business and hoping they come to you?
How wonderful would it be if we could choose our clients – the ones who love what we do, pay on time, and keep coming back for more?
It can be done with a bit of a change of mindset. In this webinar we'll show you our approach, and how it worked for us. Suddenly we were charging three times more than we would have done, and not only attracting appreciative clients, but they also got back in touch without any prompting from us, and then wanted us to do more for them. How amazing is that?
It all starts with knowing your value, knowing your "perfect clients" and then delivering what they want.
If you work for your enjoyment, and with the people you want to work with, then success will follow.
Wednesday 14th July 2021 – 1.00PM
Live on: The Societies of Photographers (Members Only) Group
If you are a member of the group, you can view any of the previous webinars via the Units tab.
If you are a member but don't use Facebook, don't worry the archive of previous webinars can be found on our Photographic Webinars section of the website.
To obtain the password please contact The Societies Head Office for more details.