Webinar: 10 ways to get more clients right now! By Gillian Devine – Brand Photography Expert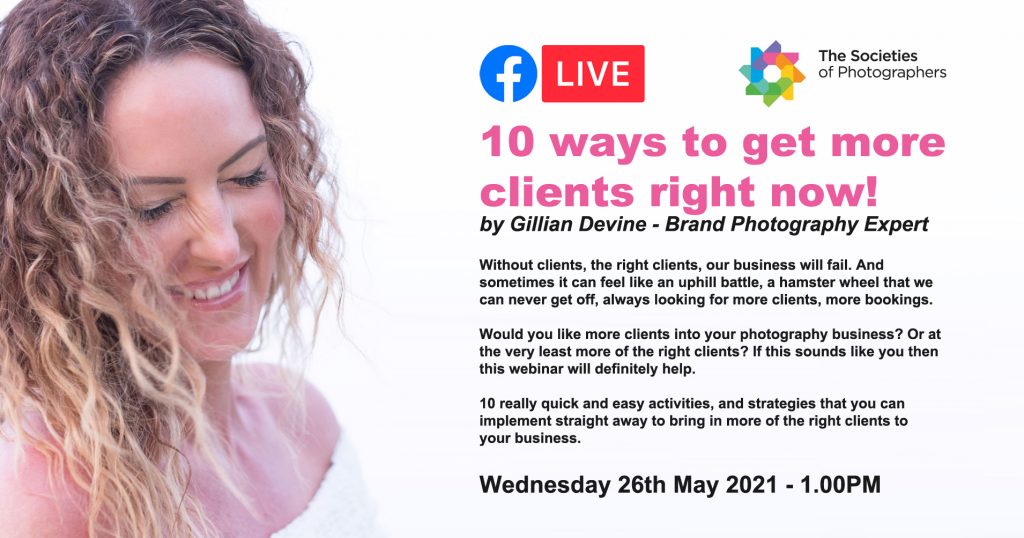 Without clients, the right clients, our business will fail. And sometimes it can feel like an uphill battle, a hamster wheel that we can never get off, always looking for more clients, more bookings.
Would you like more clients into your photography business? Or at the very least more of the right clients? If this sounds like you then this webinar will definitely help.
10 really quick and easy activities, and strategies that you can implement straight away to bring in more of the right clients to your business.
Wednesday 26th May 2021 – 1.00PM
Live on: The Societies of Photographers (Members Only) Group
If you are a member of the group, you can view any of the previous webinars via the Units tab.
If you are a member but don't use Facebook, don't worry the archive of previous webinars can be found on our Photographic Webinars section of the website.
To obtain the password please contact The Societies Head Office for more details.