DxO PhotoLab 4 was awarded the 2021 TIPA Award for Best Professional Photo-Editing Software
The prestigious Technical Image Press Association has recognized the performance of DeepPRIME artificial intelligence technology, which outpaced all other solutions in the market in terms of demosaicing and denoising.
Available in DxO PhotoLab 4, the latest version of DxO's advanced photo-editing software, DeepPRIME is an artificial intelligence technology dedicated to developing RAW photo files. Trained with deep learning technology using the millions of photos DxO's laboratories have analysed for the past 15+ years, DxO DeepPRIME drastically improves digital noise reduction while also delivering more effective demosaicing.
A database of calibration images unlike any other in the world
Since its founding in 2003, DxO has earned an international reputation for measuring and calibrating hundreds of cameras and thousands of lenses in its laboratories using a protocol that is more extensive than any other in the industry. DxO's laboratories have measured the amount of distortion, vignetting, chromatic aberrations, loss of sharpness, and digital noise that occur with an extraordinary level of precision. Such in-depth knowledge of the performance and defects of each piece of equipment, which now totals to more than 60,000 different combinations, has been consolidated into a database of several million precisely calibrated images, each one containing several thousand characteristic points.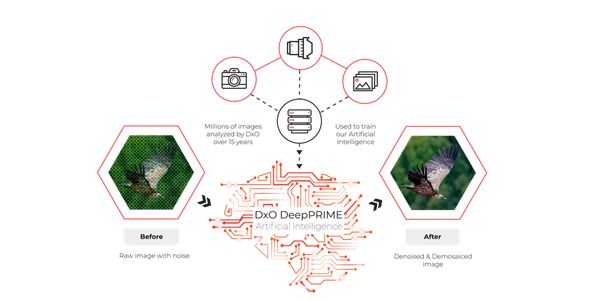 Exceptional performance
This same database provided the DeepPRIME network with several billion training datasets. Through this method, the AI "taught itself" how to demosaic and denoise, two operations that play a fundamental role in developing RAW files. Using a traditional approach, these two operations are performed separately, each one introducing artifacts that degrade the quality of the other.
With deep learning, DxO DeepPRIME uses a holistic approach that combines demosaicing and denoising in the same step, resulting in exceptional performance. The resulting photo quality is nothing short of spectacular, especially for photos taken in low light conditions, with small pixels, or with early-generation cameras.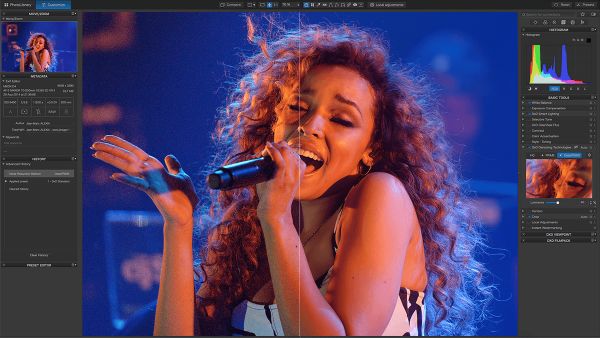 "By winning the TIPA Award once again, DxO PhotoLab showcases its technological advancement compared to the rest of the RAW editing software market," says Jérôme Ménière, CEO of DxO. "With DeepPRIME, we have proven that AI is better at extracting relevant information from a noisy image, and we are providing all photographers with a solution that outpaces every other solution available today."
Revolutionary in every respect
The fourth version of DxO PhotoLab has also added a new dynamic interface system called DxO Smart Workspace, enriched its photo library with a batch renaming feature, and created an even simpler workflow by adding a new and exclusive editing history tool called DxO Advanced History and the ability to selectively copy and paste specific settings. Lastly, the new DxO Instant Watermarking feature lets users sign their photos by adding a watermark directly to the image.
About DxO
DxO is one of the most innovative companies in the photography and image-editing industry. It designs and markets the most effective photo-editing software programs on the market made for expert and amateur photographers. One of its programs, DxO PhotoLab, is an advanced photo-editing software that won the 2021 TIPA Award for Best Professional Imaging Software. Its line-up also includes Nik Collection By DxO, a famous suite of creative plugins for Adobe Photoshop, Lightroom Classic, and DxO PhotoLab that was presented with the 2020-2021 EISA Award for Best Imaging Software.
See DxO website for more info