Leading Taiwan-based optics and photo/video accessory manufacturer, STC has revealed a brand-new versatile folding grip accessory solution for the popular Sony a7C mirrorless camera.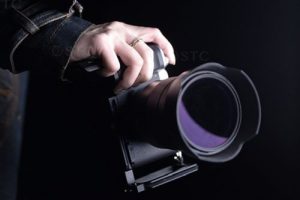 The latest member of the STC FoGrip range of ingenious grip solutions, the new and innovative FoGrip for Sony a7C gives greater stability and an immediate benefit with weight distribution and comfort with longer periods of handheld shooting for amateur, serious enthusiast and professional photographers, videographers and content creators alike.
As STC continues to create innovative accessories for photographers and videographers, the new FoGrip for Sony's a7C emerges specifically for those shooting with the popular model, which offers its loyal users the qualities of its Sony Alpha-Series counterparts but in a much smaller package. The new professional-grade grip follows STC FoGrip launches for Nikon, Sony and Olympus' latest camera models along with the dedicated 'ProGrip' for the Fujifilm X100V.
Designed for Performance – Built to Last
The new FoGrip for Sony's a7C allows shooters enhanced comfort; allowing easy operation for longer periods and with just a single hand. It is certain to serve as an indispensable partner for those shooting for hours on end in professional and semi-professional situations. The grip will also arrive as great news for travel, wedding, and wildlife photographers, all of whom spend long periods with their camera in hand.

Each device has been created from ergonomically designed aerospace-grade CNC aluminium alloy, which is extremely tough, yet light, weighing just 69g. The new FoGrip for the Sony a7C improves comfort, durability and the style of what is arguably one of the most stylish small-format mirrorless cameras in the current market.
Ultimate Accessibility – Versatile Adaptability Users will enjoy the convenience of being able to access the battery door without having to remove the FoGrip from the a7C camera body. Furthermore, adaptability is assured with 8cm vertical L-Brackets, which can be purchased with spacer plates in two different sizes, allowing for simple access to the camera's memory slot and cable connecting terminals. STC's 4.5cm side plate is also compatible with the new FoGrip, guaranteeing rock-solid portrait shots every time.
William Wu, CEO and Lead Design Engineer, STC, said: "The new FoGrip for the a7C demonstrates STC's commitment to its expanding range of camera accessories. We are confident that this new folding grip will provide a practical solution for photographers and filmmakers shooting handheld for extended periods, making the whole experience more comfortable for the user." William continued: "This model from Sony is a perfect example of a small-yet-powerful mirrorless camera whose users will benefit from additional stabilisation. The team at STC is very excited to see how this innovative product will be received by the loyal community of Sony shooters and we are also keen to see the great results."
Check their website for more details