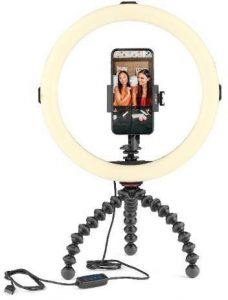 Portable ring light that delivers outstanding lighting results for more professional-looking photographs, videos, and conference calls.
Full control with 10 different brightness settings and three colour temperatures.
Simple plug-&-play operation pairs with JOBY supports, phone mounts, and microphones.
Incredibly lightweight – great for content creators on the go.
Forget worrying about achieving great lighting results on the go – the new JOBY Beamo Ring Light 12" is a lightweight, portable ring light that delivers 10 brightness levels and three different colour temperatures, all at the press of a button. It is powered with a simple USB cable and pairs perfectly with a 5V/2A+ external battery or power adapter. Complete with a 1.7m cable, creators can position the ring light wherever they want to get the best effect. This is the new favourite addition to the full extensive JOBY range.
To support the ring light, simply team it up with our GorillaPod® supports. Add on a GripTight™ phone mount and Wavo™ microphone, and users have a complete mobile content creation kit. While phone clamps and tripods are not included, this versatile ring light fits easily into any kit bag or home studio setup, and will work perfectly with all existing JOBY equipment.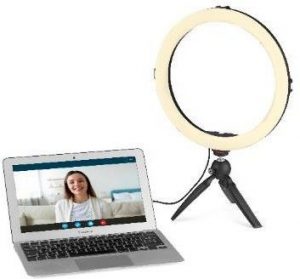 Mix things up with up to 10 different brightness levels and three colour temperatures to change the mood. Choose from 3000K, 4000K, or 5600K to give a soft, warm coloured effect, or go for crisper, blue-toned lighting. It comes with four cold shoe mounts that enables the microphone to be positioned at different points around the phone or camera for premium audio capture, and a cold shoe adapter for easy device mounting. The JOBY Beamo Ring Light 12" is compactenough (30.6×30.6x3cm) and incredibly lightweight (330g) to take on any trip or to keep it ready-to-use in a home studio or workspace. Ready to use right out of the box and compatible with existing JOBY products, the Beamo Ring Light 12" is perfect for all kind of content creators
The JOBY Beamo Ring Light 12" can be bought  in a bundle or as an individual product. For more information see:
joby.com/uk-en/beamo-ring-light-12-jb01733-bww/