Webinar: Creating a Photography Website that Works with Jeff Brown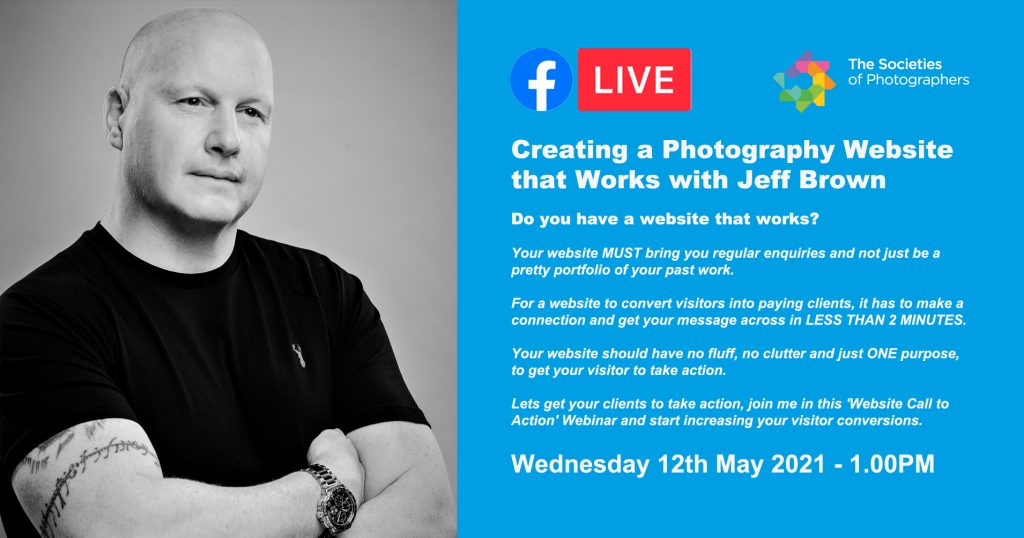 Do you have a website that works?
Your website MUST bring you regular enquiries and not just be a pretty portfolio of your past work.
For a website to convert visitors into paying clients, it has to make a connection and get your message across in LESS THAN 2 MINUTES.
Your website should have no fluff, no clutter and just ONE purpose, to get your visitor to take action.
When someone visits your website they can only do one of five actions:
Book an appointment
Download something in exchange for their email
Make a direct purchase
See your number and call you direct
LEAVE
How many of your clients are taking the 5th action and hitting the back button to visit your competitors?
Lets get your clients to take action, join me in this 'Website Call to Action' Webinar and start increasing your visitor conversions.
Wednesday 12th May 2021 – 1.00PM
Live on: The Societies of Photographers (Members Only) Group
If you are a member of the group, you can view any of the previous webinars via the Units tab.
If you are a member but don't use Facebook, don't worry the archive of previous webinars can be found on our Photographic Webinars section of the website.
To obtain the password please contact The Societies Head Office for more details.