Webinar: Getting paid to do what I love! with Rick Friedman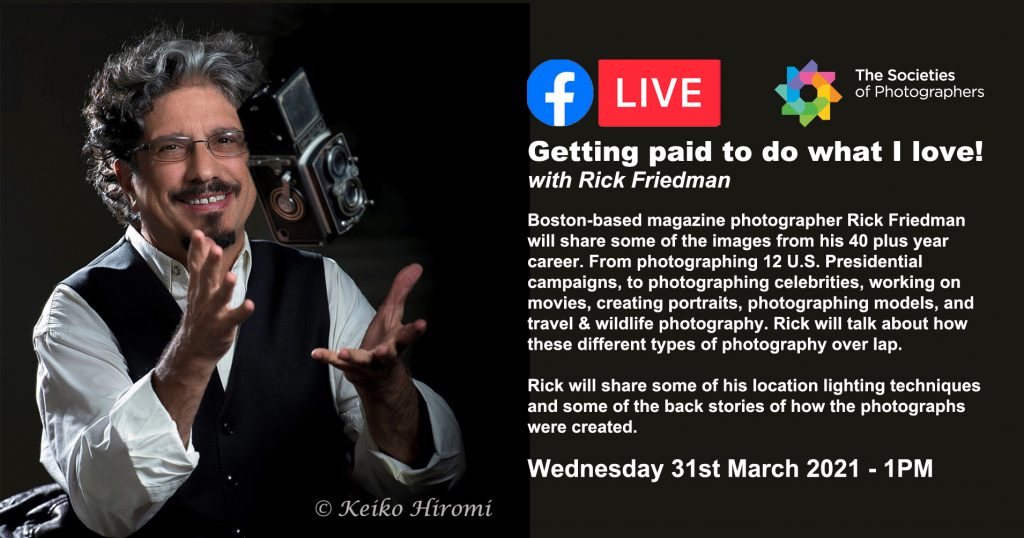 Boston-based magazine photographer, Rick Friedman, will share some of the images from his 40 plus year career. From photographing 12 U.S. Presidential campaigns, to photographing celebrities, working on movies, creating portraits, photographing models, and travel & wildlife photography. Rick will talk about how these different types of photography over lap.
Rick will share some of his location lighting techniques and some of the back stories of how the photographs were created.
Rick has presented at several The Societies of Photographers' Conventions. He is a Tamron Ambassador and a Savage Universal Ambassador and has taught his "Location Lighting Workshops" across the US, Canada, UK and UAE.
Wednesday 31st March 2021 – 1.00PM
Live on: The Societies of Photographers (Members Only) Group
If you are a member of the group, you can view any of the previous webinars via the Units tab.
If you are a member but don't use Facebook, don't worry the archive of previous webinars can be found on our Photographic Webinars section of the website.
To obtain the password please contact The Societies Head Office for more details.