Webinar: Going for Gold – why do we do it? With Fiona Ingvarsson FSWPP ASIMPP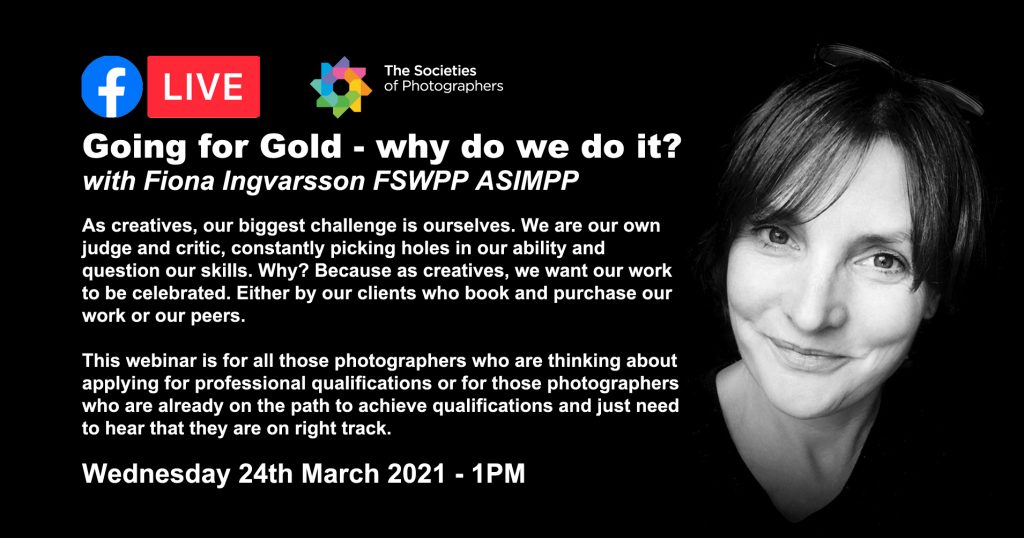 As creatives, our biggest challenge is ourselves. We are our own judge and critic, constantly picking holes in our ability and question our skills. Why? Because as creatives, we want our work to be celebrated. Either by our clients who book and purchase our work or our peers.
Sometimes and more often than not, when we first start out practising photography, we carry the burden of not being good enough. This is called Imposture Syndrome. What this feels like is; lack of confidence in our ability, undervaluing our work, our skills, and our creativity, and therefore we undercharge, barely making a living.
This webinar is for all those photographers who are thinking about applying for professional qualifications or for those photographers who are already on the path to achieve qualifications and just need to hear that they are on right track.
There is no doubt, working toward professional qualification is tough! The creative highs and low are painful; but setting goals and creative ambitions are all part of what makes us successful, becoming the very best we can be.
If the above resonates with you, then join me on Wednesday the 24th March at 1pm to hear of my own personal journey through professional qualifications, from not achieving my Licentiateship first time round, to gaining my Fellowship and where that journey has led me today.
Wednesday 24th March 2021 – 1.00PM
Live on: The Societies of Photographers (Members Only) Group
If you are a member of the group, you can view any of the previous webinars via the Units tab.
If you are a member but don't use Facebook, don't worry the archive of previous webinars can be found on our Photographic Webinars section of the website.
To obtain the password please contact The Societies Head Office for more details.