Webinar: The Judging Team – Judging Round Table Discussion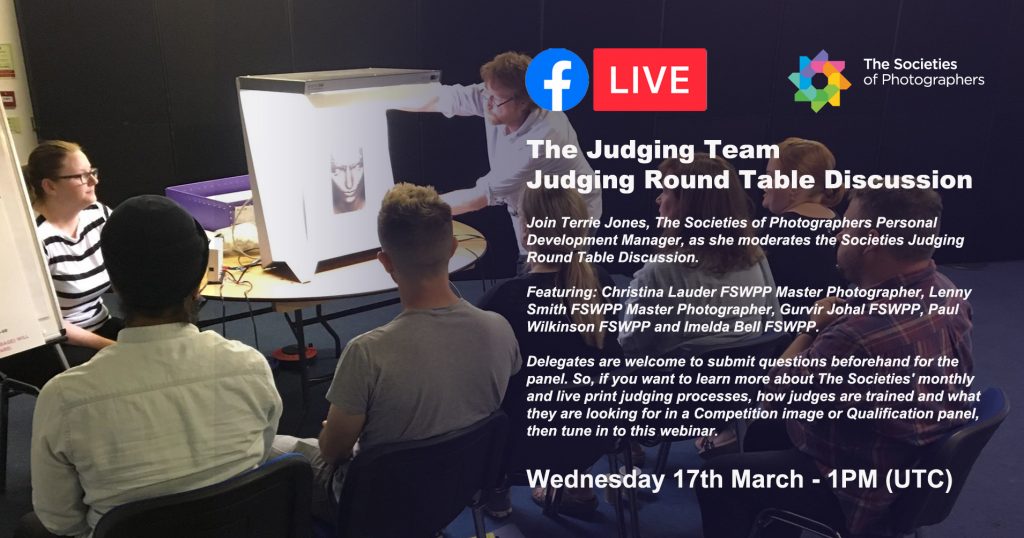 Join Terrie Jones, The Societies of Photographers Personal Development Manager, as she moderates the Societies Judging Round Table Discussion. Terrie is often asked questions from Qualification and Competition entrants and she would love to answer these in a more public forum. Terrie will be joined by five panellists, each of whom has vast experience and knowledge on the topic of judging for The Societies.
Featuring: Christina Lauder FSWPP Master Photographer, Lenny Smith FSWPP Master Photographer, Gurvir Johal FSWPP, Paul Wilkinson FSWPP and Imelda Bell FSWPP.
Delegates are welcome to submit questions beforehand for the panel. So, if you want to learn more about The Societies' monthly and live print judging processes, how judges are trained and what they are looking for in a Competition image or Qualification panel, then tune in to this webinar.
Wednesday 17th March 2021 – 1PM (UTC)
Live on: The Societies of Photographers (Members Only) Group
If you are a member of the group, you can view any of the previous webinars via the Units tab.
If you are a member but don't use Facebook, don't worry the archive of previous webinars can be found on our Photographic Webinars section of the website.
To obtain the password please contact The Societies Head Office for more details.