Webinar: Bring Your Visions To Life with David Edmonson FSWPP & Luke Edmonson FSWPP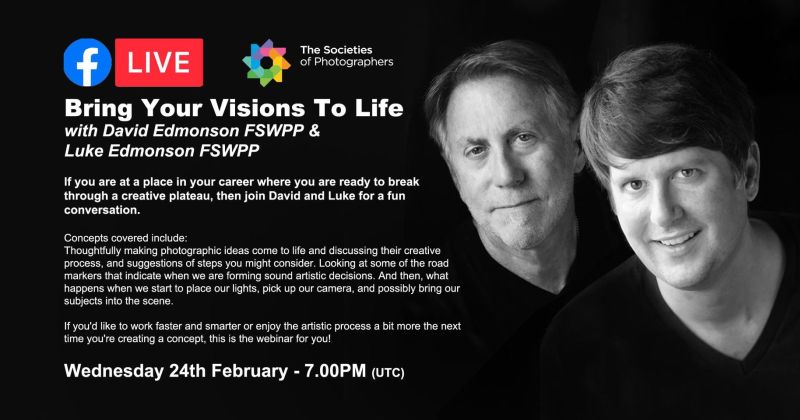 If you are at a place in your career where you are ready to break through a creative plateau, then join David and Luke for a fun conversation.
Concepts covered include:
Thoughtfully making photographic ideas come to life and discussing their creative process, and suggestions of steps you might consider.
Looking at some of the road markers that indicate when we are forming sound artistic decisions.
And then, what happens when we start to place our lights, pick up our camera, and possibly bring our subjects into the scene.
If you'd like to work faster and smarter or enjoy the artistic process a bit more the next time you're creating a concept, this is the webinar for you!
Wednesday 24th February 2021 – 7.00PM (UTC)
Live on: The Societies of Photographers (Members Only) Group
If you are a member of the group, you can view any of the previous webinars via the Units tab.
If you are a member but don't use Facebook, don't worry the archive of previous webinars can be found on our Photographic Webinars section of the website.
To obtain the password please contact The Societies Head Office for more details.