The Societies' of Photographer Awards Night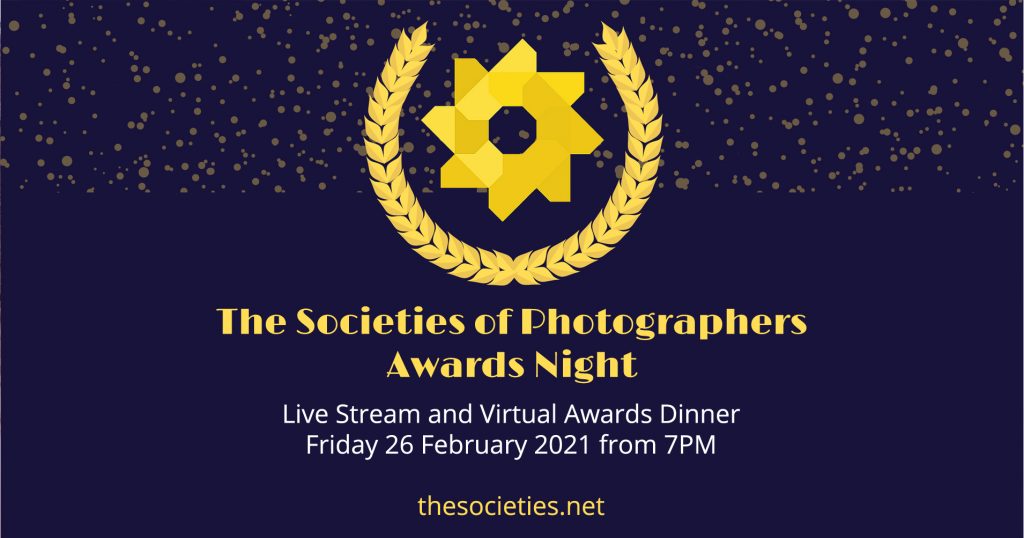 Live Stream and Virtual Awards Dinner
Friday 26 February 2021 from 7PM
Join us on the glittering Online Awards Night and celebrate the success of photographers from around the world; and find out who will win the Photographer of the Year?
The winners of the 2020 Monthly Image Competition and 2020 Trade Awards will be announced at the online awards live stream on Friday 26 February 2021 from 7PM.
Hundreds of photographers are expected to tune in to this prestigious event to find out on the night who is being recognised for creativity, innovation and effectiveness for their photographic skills. Make sure that you are there to celebrate excellence within the photographic trade.

7.00 PM – 9.00 PM – Zoom Social Meet-up and drinks – Attendees are more than welcome to organise having a virtual dinner at this time with friends should they so wish. There will be multiple Zoom Rooms open for you to pop in to and will remain open throughout the Awards.
7.30 PM – 9.00 PM – Awards Presentation will go live on our public Facebook Page, Member's Facebook Group and YouTube channel, hosted by Juliet Jones and Terrie Jones.
We look forward to welcoming you to the Online Awards Presentation Evening.