New PortraitPro v21 is out now.
Launch special: 50% off + extra 10% off any new edition or upgrade with your code PPLV21. Software gift for upgraders. Limited time! 
* Lighting Brushes From glowing light streams to realistic relighting elements, these new tools will speed up your workflow with ease.
* Sky Replacement tool Control the weather and add depth with the all new Sky Replacement Tool.
* Clone tool Use it for precise control for removing items or imperfections. Great for retouching projects that require precision.
* De-Noiser & Sharpening Resolve noise caused by low light scenarios, slow shutter speeds or high sensitivity modes. Say goodbye to grainy photographs.
* Master slider for Skin Lighting & Coloring Customers' most common request, gives improved control
* History tool Switch between recent state of image, track changes and restore a portion of image to an earlier state.
* Hair Highlights – add streaks to hair Customize undertones, add highlights, adjust strength, and increase vibrance for salon-level coloring results
* Color Styles Rather than switch tools and fill layers, use a one click Color Style tool to customize appearance and improve the overall tone of a portrait or introduce drastic image effects.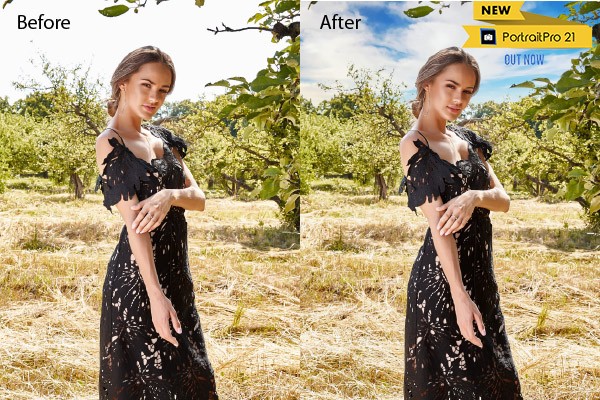 * Presets now include Layers
* Color Copying
* Optimized Color Space handling
* Move catchlights
* SVG backgrounds
* New Layers, Backgrounds and Overlays
* Free Stock Photos – hundreds of high-resolution photographs, backgrounds, and graphics
* New Tutorials from the creators
* And more!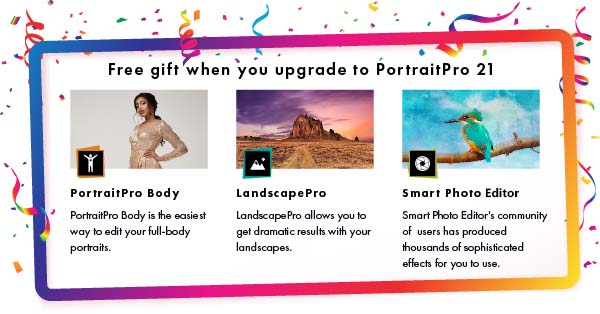 Ready to take your portrait retouching to the next level? Download the free trial now.
Save 50% with the launch special, and remember your code PPLV21 for an extra 10% saving on any edition or upgrade. Get a software gift if you upgrade now.