Fujifilm launches mirrorless digital camera FUJIFILM X-S10
Compact and lightweight body with new in-body image stabilization and accurate AF that attains focus in as fast as 0.02 seconds
Excellent operability and proprietary color reproduction to achieve superior image
Full-fledged video production with smooth 4K video in rich colors

FUJIFILM Corporation is pleased to announce the launch of the mirrorless digital camera "FUJIFILM X-S10" (X-S10) in the mid-November 2020. It is a new addition to the X Series of mirrorless digital cameras known for their compact and lightweight body and superior image quality based on the company's proprietary color reproduction technology. In its compact and lightweight body, the X-S10 features the newly-developed up to 6.0-stops of five-axis image stabilization mechanism*, fast and accurate AF system that attains focus in as fast as 0.02 seconds, a large grip that makes it stable to hold the camera, and the high-performance auto-shooting function. The X-S10 is a mirrorless digital camera that sports X Series' advanced shooting functionality, while making it easier to take premium quality image.
By offering X-S10, Fujifilm will broaden the user base of the X Series and provide the joy of photography.
The X-S10 is a mirrorless digital camera that features the five-axis six-stop image stabilization mechanism in its compact and lightweight body of just 465g**. It is equipped with the back-illuminated 26.1MP sensor "X-Trans™ CMOS 4"*** and the high-speed image processing engine "X-Processor 4," both featured in the X Series' flagship model, "FUJIFILM X-T4", to achieve accurate and high-speed AF performance in as fast as 0.02 seconds. The X-S10 also offers excellent operability and ease of use, thanks to its large grip for hand-held stability and the rear LCD monitor with the vari-angle structure. Users can take beautiful pictures easily using the advanced "AUTO/SP (Scene Position) mode, which automatically selects optimum settings according to scenes. The camera also offers advanced video performance, capable of recording smooth 4K/30P video in rich colors and high-speed Full-HD video at 240fps.
Fujifilm will continue to communicate and deliver the joy of photography through its X Series of mirrorless cameras with APS-C sensors and an extensive lineup of premium-quality lenses including the FUJINON Lens XF10-24mmF4 R OIS WR, also released today.
* Offering 6.0-stop stabilization when used with 20 of the existing interchangeable lenses (XF/XC lenses) for the X Series
** Including the supplied battery and a memory card
*** X-Trans is a trademark or registered trademark of FUJIFILM Corporation.
Main product features
(1) A compact and lightweight body that features a new image stabilization mechanism as well as fast and accurate AF function
The X-S10 features newly-developed in-body image stabilization (IBIS) mechanism. By using new materials and optimizing the layout of the components, the IBIS unit in the X-S10 is 30% smaller and lighter*4 than that found in the X-T4. The unit is complimented with a shock absorbing mechanism that effectively controls vibrations when the shutter is released. Also, it features a sensor capable of detecting fine movements to deliver up to 6.0-stops of five-axis and image stabilization, creating sharp and well-resolved images in a wide variety of situations.
Despite its compact and lightweight body, weighing just 465g, the X-S10 is equipped with the back-illuminated 26.1MP "X-Trans™ CMOS 4" sensor that has phase detection pixels across the surface as well as the high-speed image processing engine "X-Processor 4" to achieve accurate and high-speed AF performance as fast as 0.02 seconds and exceptional portability.
The X-S10 has high-performance tracking AF, which maintains accurate focus on a subject that is moving toward and even moving away from the camera. Its superior Face / Eye AF function makes portrait photography easy.
The X-S10 realizes fast and accurate autofocus even in near-darkness conditions with the luminance level of -7.0EV*5. An accurate focus is attained even with limited light including nightscapes.
In the mechanical shutter mode, the X-S10 can shoot continuously at 8fps. In the electronic shutter mode, it delivers blackout-free burst shooting*6 at 30fps, ensuring to capture decisive photo opportunities.
*4 Comparison in bulk and weight.
*5 The luminance limit of -7EV is achieved when the camera is mounted with the FUJINON Lens XF50mmF1.0 R WR.
*6 High-speed continuous shooting free from blackout, in which the viewfinder blacks out, causing the photographer to lose sight of a photo subject.
(2) Exceptional operability for ease of use
The use of lightweight and highly-robust magnesium-alloy grip makes the camera very stable to hold, reducing physical strain when shooting with a large lens such as telephoto zoom.
The Mode Dial on the top panel has customizable positions C1 – C4, to which users can assign image quality, focusing and shooting settings. User-defined presets can be accessed quickly for smooth shooting.
The monitor has the vari-angle structure. Users can compose a frame easily with their inspiration even when shooting a self-portrait.
The Live View setting of viewfinder can be selected from three boost modes. According to shooting scenes and subjects, users can choose from the Low Light Priority mode which allows one to see the subject clearly even when shooting in low light, Resolution Priority mode which displays the subject in fine detail, or Frame Rate Priority mode which shows the motion of a subject smoothly.*7
*7 The Live View setting of the rear LCD monitor can be selected between the Low Light Priority mode and the Resolution Priority mode.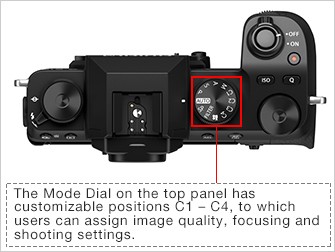 (3) Exceptional image quality with Film Simulation for versatile color presentation
The X-S10 features a total of 18 Film Simulation modes including the vivid and high-contrast "Velvia" and high-contrast yet low-saturation "ETERNA Bleach Bypass" which produces impressive atmosphere. The camera provides a detailed description of characteristics and optimal applications for each of the Film Simulation modes, so that even the first-time users of Fujifilm's digital cameras can utilize the proprietary color reproduction with ease.
The algorithm has been updated for the "AUTO/SP (Scene Position)" mode, which automatically adjusts shooting settings to suit a given scene. It automatically applies settings such as "Color Chrome Effect (Blue)," "Clarity" and "Dynamic Range Priority" to produce landscape images of greater saturation or beautiful portraiture that accentuates the main subject. Highlights and shadows are controlled to minimize clipping when shooting in back-lit conditions in order to produce high-quality images.
(4) Extensive video-recording functions
The X-S10 generates 4K video from the amount of data equivalent to 6K to ensure the footage is in high resolution with low noise. It supports recording 4K/30P 4:2:0 8-bit video onto an SD card inserted in the camera, and outputting 4K/30P 4:2:2 10-bit video via the HDMI port.
The X-S10 is also capable of high-speed Full-HD recording at 240fps, producing up to 10x slow-motion footage of a split-second motion of a fast-moving subject.
The IBIS mechanism is complemented with electronic image stabilization, available for use during video recording. It makes fine adjustments to framing in line with camera shakes to effectively control motion blurs that typically occur when shooting hand-held.
The Video Record button is positioned on the top panel to start recording video instantly. When the Video Record button is pressed while shooting stills, the camera automatically applies optimum video settings.