Novo Photo Products – Novo SC-10 Super Clamp
The NOVO SC-10 Super Clamp is a strong, heavy duty, travel size multipurpose clamp that allows you to clamp a camera or photographic accessories such as flashguns, LED lights, ball heads, arms, etc to a variety of places such as a tree branch, railings, poles, tables, benches, chairs, planks, doors. Great versatility for giving secure mounting and support of cameras or accessories, and obtaining different photographic compositions and angles. Variable locking diameter 0-100mm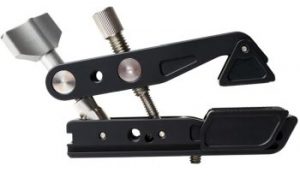 Manufactured from aircraft grade aluminium and stainless steel, the SC-10 clamp support large payloads (up to 15kg), whist weighing approx only 270g, and offers many mounting possibilities, including multiple 3/8″ and 1/4″ sockets, and 1/4″ screw. Additional accessories such as ball heads, phone mounts, articulating arms can be used for mounting a wide range of devices.
Useful in all types of photography, including close up and macro, landscapes, night photography, wildlife and street use, the Novo SC-10 Super Clamp is a very handy and useful accessory. Can be an alternative to tripods or other support equipment, or used in combination.
The effective design offers quick and secure clamping and release. The large tightening screws and large knob aid very strong clamping forces and torque to be applied. One jaw features an integrated slider, offering a flat or curved surface, and the other jaw has a rotatable platform, for differing angles, or to give a curved area.
Please note the Super Clamp needs to be used with care on items to prevent damage to the item being clamped upon. For example furniture and wooden items can easily be damaged, scratched or indented as the SC-10 can be clamped very tightly with considerable force.
Specification
Model
NOVO SC-10
Construction
CNC Machined Aluminium, and stainless steel screws
Min Locking diameter:
0mm
Max Locking diameter:
100mm (approx)
Maximum load:
15kg
Clamp operation:
Dual control
Dimensions (approx):
Length: 120mm
Height: 75mm
Width: 31mm
Weight:
270g (approx)
MSRP   £64.90                                                                                    USD $70.31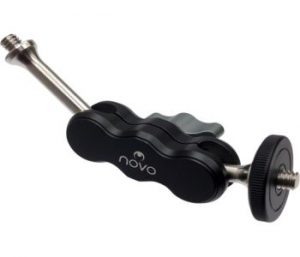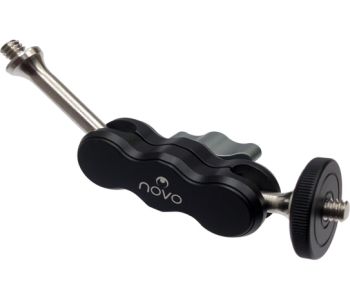 The NOVO AA-10 Double Articulating Arm with 1/4″ Screw is an articulated arm with double ball joints (1/4'' Screw thread), a great accessory for photo, video, macro, vlogging, studio, lighting, cage to monitor attachment, or any scenario where an articulating arm with double 1/4″ standard camera accessory screw threads is required.
It can attach to many accessories such as small LED lighting / light cubes / panels, macro accessories, monitors, camera and other cages, various plates, LCD lights, or any other accessory with 1/4''-20 threaded holes. Most often used to mount video / LCD monitors to cages, and macro use for arms or lighting, but the usage possibilities are endless.
The simple, effective design offers easy adjustment of angles, rotation of the arms, and quick clamping and release.
The single wing locking control screw clamps both sides together, giving fast, strong and efficient clamping of both balljoints at the same time. Manufactured from Aircraft grade CNC machined aluminium and stainless steel balljoints and shaft, ensure the product maintains flawless operation for its lifetime.
1/4\" can be easily adapted to 3/8\" if required with a low cost 1/4\" to 3/8\" adapter (adapters NOT supplied)
Key Features:
Double ball joints with 1/4'' -20 screws
Single operation clamping design
Quick operation
Vari-angle and rotation
Strong construction
CNC Aluminium manufactured
Larger plate with 1/4''-20 threaded hole can be removed if required
Tough and durable
MSRP     £24.90                                                                                        USD $26.98