Dusty printers are now a thing of the past with PermaJet's superb range of robust and waterproof Protective Printer Covers.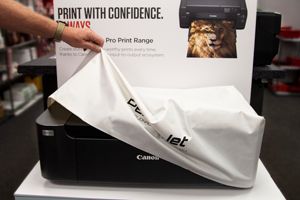 After investing in such an expensive piece of equipment, keeping it in good condition should be a priority. The easy slip-on Protective Printer Cover will shield printers from everyday dirt, dust, pollutants and hot sunlight, ensuring it is safe and ready to go for the next print job.
Designed for the A3+ & A2 range of Canon and Epson desktop photo inkjet printers, each cover is made of tough polypropylene fabric – a flexible material which has been precision manufactured to slide easily over the printer when not in use.
100% Polypropylene
100% Waterproof
UV protective
Easy slip-on, slip-off design
Available in Medium, Large & Extra Large (dimensions are available online)
Alison and Michael, of OSM Photography & Visual Solutions, said, "After years of printers collecting dirt and dust, covered with scruffy mount boards to protect them, while still heating up in direct window sunlight, we're very happy with the slick white vinyl finish printer covers. They fit snuggly to the printer keeping them clean and dust free, and they reduce the heating. They've improved the look of our office and no doubt the longevity of the printers. Well done PermaJet!"
The Printer Covers, which sold out following their initial launch, are available to buy from www.permajet.com