Cokin has expanded its range of NUANCES glass filters with the addition of two new models: Nuances Infrared 720 and Nuances Extreme ND8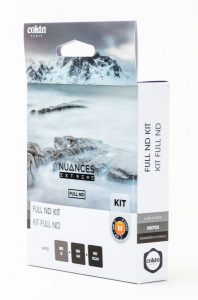 Cokin Nuances filters are made from professional quality optical glass and offer exceptional colour neutrality. They are designed to be used primarily with the new Cokin EVO filter holder. Models having the 'Extreme' suffix use tempered glass to make them even more durable – they are shock proof and protected from accidental drops.
The new Nuances Infrared 720 filters absorb light in the visible spectrum and transmit light in the 720nm to 950nm wavelength range – this is ideal for capturing stunning landscapes in an exciting and dramatic way.
The new Nuances Extreme ND8 is a solid neutral density filter, reducing light transmission by 3 stops. It sits alongside the existing ND64 (6 stops) and ND1024 (10 stops) models, allowing the use of longer shutter speeds and wider apertures during daylight to create stunning smooth blurry images of moving objects or beautiful blurred backgrounds.
There is also a new Nuances Extreme Full ND kit, comprising all three solid neutral density ND8, ND64 and ND1024 glass filters. Furthermore, the Z-Pro (L) range now appeals to an even wider user group, with adapter rings available in all diameters from 49mm to 96mm.
Cokin Nuances and Nuances Extreme filters are available now through leading photo retailers in sizes M (84x84mm), L (100x100mm) and XL (130x130mm) – also known as P-Series, Z-Pro and X-Pro.
Full information about COKIN products and stockists can be found on the official distributors' website: intro2020.co.uk