Instax instant cameras are helping NHS frontline staff share a smile with patients from behind their PPE
Across the UK, the challenge of personal protective equipment (PPE) means NHS frontline staff are struggling to show their patients a comforting smile. But Fujifilm have found an unexpected way to help – instax instant cameras. The company is helping share the smiles of NHS doctors and nurses working on the frontline of the coronavirus pandemic and connect with patients through donating instant cameras to intensive care units across the country.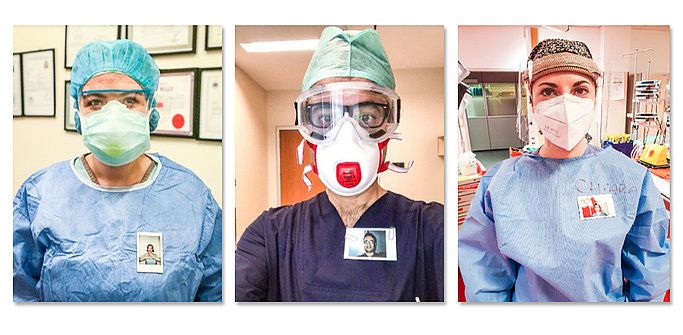 NHS staff are facing unprecedent challenges in dealing with coronavirus, from intense demand on intensive care to new procedures and requirements to reduce infection. One of these challenges is the new requirements around PPE.
Those working on the frontline in hospitals must put on gloves, gown, face mask, visor or air hoods before entering a hospital unit or caring for a patient – creating a full suit covering almost every feature. The coverings are not only restrictive and uncomfortable, but can muffle the voice as well as obscure the face, meaning that doctors and nurses treating patients have to obscure everything but their eyes.
This can make it difficult to reassure a patient, who cannot see a smile or a friendly face. PPE removes an important element of the personal connection that is usually so important between a clinician and patient. It can also heighten an already worrying and intimidating situation and make patients in ICU wards feel even more isolated.
For the clinicians themselves, not being able to see their colleagues, or show their own personalities, can also be difficult. There are many new faces on wards from nurses and doctors who would not usually work in ICU being redeployed. Faces are an important way to communicate but PPE removes this ability from frontline workers, with the potential to have a real impact on morale.
Fujifilm have been looking for ways to help those NHS teams searching for a solution to sharing their faces behind the PPE and came up with an unexpected solution – instant cameras. The company have been donating their instax instant cameras to intensive care units across the country, letting doctors or nurses take a photograph and quickly attach an instant photo print of themselves to their hospital gowns.
The initiative has seen frontline workers across the country use this quick and easy solution to show their patients a comforting smile, as well as their personality.
The initiative has so far seen cameras donated to 35 NHS Trusts across the country and has also gone international, with special packs of instax instant cameras donated to more than 50 hospitals across Europe in eight different countries.
Rachel Power, CEO of the Patients Association, said:
"PPE is vitally important for both keeping patients and doctors safe and reassuring patients about their safety at a worrying time. But there's no doubt that masks can be a barrier between doctors and patients, or even transform a comforting presence into a disconcerting one. Having photos of the doctor without their mask is a simple but imaginative idea that should provide a lot of reassurance to patients who will be able to see the face behind the mask."
Neill Harris, General Manager, Fujifilm UK Photo Imaging said:
"Donating instax cameras and film is just a small way in which Fujifilm is able to help – but to both NHS staff and patients, we've been told that by being able to easily show the friendly face behind the PPE, it can help bring comfort and understanding in the most difficult of situations."
Fujifilm want to expand this offer of help even more Trusts. The company are encouraging health teams on the frontline interested in receiving a special instax kit to contact comms_uk@fujifilm.com