Introducing the FoGrip for Sony α9 II / α7R IV Cameras
Manufacturers of market-leading imaging innovations, STC, has announced another sibling in the FoGrip, (folding grip) family; this time for Sony α9 II / α7R IV cameras, delivering greater stability and immediate benefit with weight distribution when using medium-to-large lenses for Sony mirrorless system shooters.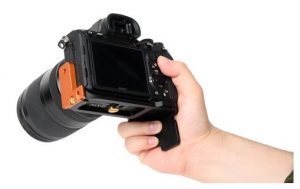 STC continues to produce ground-breaking innovations for photographers and videographers the world over and their latest product announcement has been designed specifically for the faithful users of Sony mirrorless system cameras.
The new grip, which is compatible with both the Sony α7R IV and the α9 II cameras, will be welcome news for those shooting for long periods, with large, heavy lenses, and searching for a practical and reliable solution. The latest FoGrip follows the release of the STC Fogrip for the Sony α7/α9series and FoGrips for Olympus OM-D E-M5 Mark III and the Olympus OM-D E-M1 Mark III and Mark II.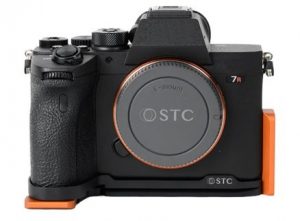 STC's expanding range of FoGrips have been subject to years of development to ensure performance, solid build and their innovative and practical fold-away design. The new member of the FoGrip family is certain to quickly become an indispensable partner for Sony shooters everywhere. Perfect for the travelling photographer, the grip's clever design and fold-away function enable the camera to sit completely flat when not in use and allows the user to comfortably shoot with just a single hand.
The whole unit has been constructed from extremely tough, yet light 6061 aerospace-level aluminium alloy, which adds just 80g to the camera when attached. Users can keep shooting by easily accessing the camera battery door without removing the grip. Furthermore, ultimate compatibility is assured with both quick-release plates and L-Brackets and the anodized frame, which comes in Sony-Orange and Matt Black, will give users protection for both the camera and hand-grip.
Sony has made significant steps in mirrorless imaging technology, leading in many areas of the market. They have long been renowned for producing cameras which are smaller and lighter than their DSLR counterparts. That said, even small camera bodies can start to feel heavy after shooting for hours on end, or when using large lenses. STC's new Fogrip for Sony's α7R IV and the α9 II cameras addresses this issue by giving users 25% more grip when shooting handheld, making it easier to shoot for longer periods of time and added stability to support lens weight. Furthermore, the new Fogrip for Sony α7R IV and the α9 II Cameras is compatible with quick-release plates and L-Brackets, allowing for easy transfer and use tripods, along with unobstructed, effortless access to the battery door without the need to remove the grip. STC has produced an optional adonized L-Bracket in Sony-Orange, as well as Standard Black colourways.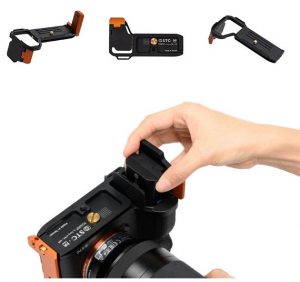 William Wu, CEO and Lead Design Engineer, STC, said: "The new Sony FoGrip has been produced specifically for the army of loyal Sony shooters the world over. Many have upgraded to the α7R IV and α9 II Cameras and will welcome this perfect and adaptable grip. We are certain that it will provide a practical solution for those shooting for long periods and with heavier lenses. We see this model as a perfect example of a small-yet-powerful camera whose users will benefit from additional stabilisation when using the camera hand-held. We are very excited to see how this new and innovative product will be received by the Sony community."