Payday with the M15 on-the-spot printer
Launching with the lowest SRP ever at £349.00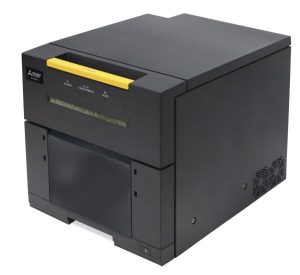 When a rapid printer offers costs at just 10p a 6 x 4" and costs less than £350 to buy, there are many one-day or single evening events which will pay for the printer and media then go on to make a healthy profit.

The first time you take the Mitsubishi CP-M15 dye sublimation printer out to work for you it will be paying its way thanks to zero waste – every inch of paper and colour ribbon used – and new drivers to work with your own laptop choice.

The CP-M15 can print from 6 x 2" strip (only 5p cost) to 6 x 8", a single media roll making a total of 750 6 x 4s. It's a robust, compact unit guaranteed for two years, designed to be easy to load and use in the field, with a head protected from dust and prints that lie near flat with reduced roll curl speeding up folder insertion and sales. It's the perfect partner for mobile, events and photobooth work – a true 'business in a box' for any photographer.
The M15 is cut from the same cloth as the other industry leading Mitsubishi Electric printers. Print quality and robust design remains at the heart of the unit, but now combined with the lowest price ever for a pro dye sublimation printer!
For those Friday nights and club shoots this really is your payday printer!
*Prices exclude VAT and may vary depending upon the reseller.
You can find much more on the whole Mitsubishi Electric printing range at www.mitsubishielectric-printing.com Or contact: t: 07341 808 590