Andi Campbell scoops first place in Wex Photographer of the Year 2020
Andi Campbell lands top prize in #WexMondays Photographer of the Year 2020 competition
Dan Portch and Dave Fieldhouse take second and third spots respectively
46 winning images from the weekly #WexMondays competition to be exhibited at Wex Photo Video Gallery in London from 16 to 31 January 2020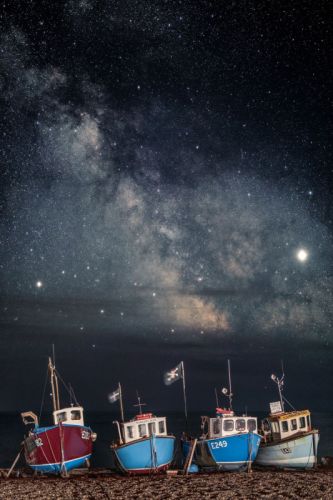 Wex Photo Video has revealed the winner and two runners-up in its #WexMondays Photographer of the Year 2020 contest.
In this hugely popular competition, which was established by Wex Photo Video in 2012, the retailer invites photographers each Monday to submit their favourite image captured during the previous week. Photos are entered via Twitter with the hashtag #WexMondays. Approximately 15,000 images from photographers throughout the UK were submitted over the last 12 months, fiercely competing for the overall title and a main prize of £1,500.
The top title this year goes to Andi Campbell from Devon, while second place goes to 2019 winner Dan Portch from Kent. Third place was awarded to David Fieldhouse from Staffordshire.
Winner Andi Campbell commented, "I entered Wex Mondays after getting the bug and winning in one of the weeks last year. I was introduced to it through the amazing photography community on Twitter, and from knowing others who have been successful in the past. The hardest part of the competition was finding something new and original to enter each week, regardless of the weather conditions or where I was able to photograph. Winning means the world to me. The competition has really pushed me to think more about my own work and has helped me develop. I can only thank Wex Photo Video for providing a great initiative that inspires me and so many other fantastic photographers."
Tiffany Tangen, events manager at Wex Photo Video, said, "Once again, we have been astonished by the quality and diversity of the photography submitted for the Wex Mondays contest this year. The standard has been exceptional, and our judging panel has been continuously impressed with the levels of originality and creativity. We congratulate Andi, Dan and Dave for their outstanding work. The participants have certainly raised the bar for next year!"
Based in Devon, Andi Campbell (@maxitup) has always been a keen picture taker, but only started pursuing photography when he acquired his first interchangeable lens mirrorless camera, around six years ago. From that point, he fell in love with the art of landscape photography and has stayed with mirrorless systems. Andi is self-taught, learning and crafting many of his skills through online resources. He now considers himself proficient enough to take good images and helps others do the same through the workshops he runs in the South West. His advice to budding photographers is 'Keep learning, shoot for yourself and always challenge yourself'. His favourite shot from Wex Mondays is Space Pirates (shown above), which was captured on Beer Beach in Devon. Andi chose this particular shot due to the unusual subject matter and the technical challenge involved in capturing it. Andi shoots with a Sony Alpha 7R III, with various lenses from Sony, Sigma, Canon, Samyang and Tamron. He also uses Kase Filters, for which he is an ambassador. Find out more at: www.andrewcampbell.co.uk
2019 winner Dan Portch (@danportch) is a self-taught photographer based in Kent, whose passion for photography began after purchasing a DSLR to take photos of his first new-born child. In addition to photographing his young children, Dan enjoys shooting on location in Devon, where he grew up, which led him to start seascape photography as a hobby. Dan also has a great interest in fine-art photography, which has inspired him to focus more on mono and muted-colour architecture and seascape work. Dan uses a Canon EOS 5D Mark IV. More at https://www.danielportch.com/.
Staffordshire-based Dave Fieldhouse (@davefphotos) first picked up a camera in 2012, and was instantly hooked. He centred his attention initially on the dramatic scenery of Britain's national parks, later diversifying into urban landscapes and street photography. In addition to his photographic work, Dave writes regularly for the photography press and gives talks at local camera clubs across the UK. He also undertakes private commissions and tuition. Dave shoots on either a Fujifilm X-T2 or X-Pro2, using a variety of Fujifilm lenses. Find out more at www.davefieldhousephotography.com.
How #WexMondays works:
Over the past seven years, #WexMondays has attracted submissions from photographers all around the UK. Entrants are invited to share their best shot from the previous seven days on a subject matter of their choice, tagging @wextweets and using the hashtag #WexMondays. Every week, one winner, two runners-up and seven other shortlisted shots are selected by the Wex Photo Video judging panel based on technique and creativity, and allocated points on the #WexMondays leader board. The top three photographers with the most points accrued throughout the year are presented with the first, second and third place prizes in the Wex Photographer of the Year competition.
2020 prizes:
The Wex Photographer of the Year receives £1,500 of Wex Photo Video vouchers. Second place wins £500 in vouchers, and third place is awarded £250 in vouchers.
Exhibition:
A collection of 46 winning images from the weekly #WexMondays competition will be exhibited at the Wex Photo Video Gallery from 16 to 31 January 2020.
Exhibition venue:
Wex Photo Video Gallery
37-39 Commercial Road, London E1 1LF
Tel: 020 7380 1144
Nearest tube: Aldgate East
Opening hours can be found here. Entry is free of charge.