Benro Launches New Limited Edition Tall Slim Tripod Kits
New models offer an operating height of 164cm, an increase of 18cm on standard Slim models with only a 100g weight gain
Reduces centre column extension required to shoot at higher level, meaning less impact on tripod stability. Affords taller photographers the chance to shoot comfortably at eye-level
New models launching in time for Black Friday sales period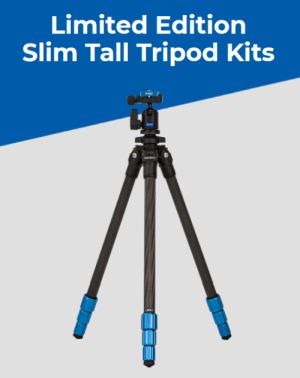 Benro is launching two new limited edition Slim Tall tripod kits, created to help photographers achieve more stability when shooting at greater heights. Based on the popular TSL08AN00 and TSL08CN00 models, crafted respectively from Aluminium and Carbon Fibre, and supplied as kits with Benro N00 ball heads, the new Slim Tall Tripods offer an additional height of 18cm over existing models, taking operating height to 164cm, while adding less than 100g to their weight.
The additional height is gained by extending the tube lengths through the legs of the new tripods, meaning photographers can rely less on extending the centre column, thereby increasing the stability of the tripods when shooting at height. They also offer taller photographers the rare chance of shooting comfortably at eye level with no compromise on stability.
Benro tripods and accessories are renowned the world-over for their quality, reliability and innovation in camera stability. The Slim range features a reduced profile shoulder, allowing the tripod legs to be more compact when folded, while retaining many features synonymous with Benro quality. The lightweight magnesium tripod shoulder has three leg positions, while all three legs can be positioned individually when working on uneven terrain. Anodised aluminium twist locks require a quick half turn to lock and unlock while a grooved centre column prevents twisting when in use, and can be reversed for low- to-the-ground shots. A weight hook located under the centre column helps secure the tripods in windy conditions while bubble levels on the shoulder and quick release clamp help ensure all kit is level.
The removable single action N00 ballhead supplied in the new Slim Tall kits has an oversized ratchet style lock knob for easy operation and a panoramic scale. It includes a blue anodised aluminium arca-swiss compatible quick release plate with a D-ring ¼" camera screw.
These new kits should be popular with photographers looking to retain the lightweight compact features of Benro's respected Slim range while offering the versatility to shoot at greater heights with less impact on tripod stability.
The limited edition Benro Slim Tall Tripod kits will be available from Benro Authorised Stockists in time for Black Friday priced at £100 and £140 RRP respectively. For more information visit https://benroletsgo.lpages.co/slim-tall/