Manfrotto Launches The New Generation Lykos Led Light
Introducing the new Lykos 2.0, 2 in 1
2 in 1 powerful and compact lighting solution for professional videography & photography
Surface-mounted LED technology and built-in lens for optimal natural lighting
Water-resistant, dual battery mount (Sony L-Type or Canon LP-E6)
Integrated Bluetooth technology, easily controlled via the Lykos app (iOS and Android)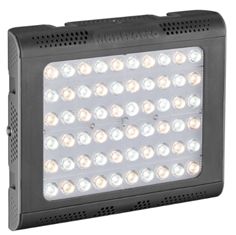 Manfrotto, world leader in the photography, imaging equipment and accessories industry announces the launch of the new Lykos 2.0 LED light, designed for professional videographers and photographers looking for a compact yet powerful 2 in 1 (Daylight and Bicolor) lighting solution that is versatile, water-resistant and reliable, featuring a built-in lens for optimal natural lighting, and also easily controlled through a dedicated Android and iOS app.
Lykos 2.0, 2 in 1 LED Light has a dual function: it can be used mainly for videos and video interviews, both indoor and outdoor. It can also be applied to photography, for still life images (Daylight setting) or fashion photography (Bicolor), to give extra warmth to the model's skin. By adjusting the back controller you can regulate light intensity as well as the mode, easily switching from Daylight to Bicolor. The new Lykos 2.0, 2 in 1 is water-resistant and features a Bluetooth technology which allows to operate the light through the Lykos app, suitable for both iOS and Android devices. It has a dual mount battery, enabling it to be charged using either Sony L-Type or Canon LP-E6.
The Lykos 2.0, 2 in 1 light exceeds industry performance standards thanks to advanced surface mounted technology combined with a built-in lens, which optimizes optical efficiency and ensures spot-on colour rendition and colour cast for the most natural lighting. It is accessorized with 8 hot shoe mounts, which can connect up to 4 Lykos 2.0 lights to create a full LED System for larger professional studio applications. Additionally, the light is compatible with Manfrotto Softbox light diffusers and is provided with a diffuser to help create the desired light effect.
This ready-to-go lighting solution is available both as a single LED light, and in a full professional lighting kit composed of three Lykos 2.0, 2 in 1 LED lights, three Nano Photo Stands, two Softboxes, all included in a highly-resistant and specially designed Manfrotto Pro Light Reloader Tough-55 photographic roller bag, with dedicated shock-absorbing foam for extreme protection.
Every detail of this light is designed with a flawless minimalist style for a sleek look and feel. It's extremely compact size makes it easy to handle, carry, and store in any photography bag. The ultra-portable Lykos 2.0, 2 in 1 LED light covers all the needs of demanding professional videographers and photographers, for whom lighting is an art form.
The new Lykos 2.0 will be available in November with an RRP of £259.95.
The Lykos 2.0 kit will be available at £1249.95.