Manfrotto, the world's leading manufacturer of lighting support and background solutions announces the launch of the Carbon Nanopole Stand.
The Carbon Nanopole Stand is Manfrotto's lightest Nano Stand ever, tailored to photographers, videographers and content creators that are looking for ways to downsize their gear and travel lighter.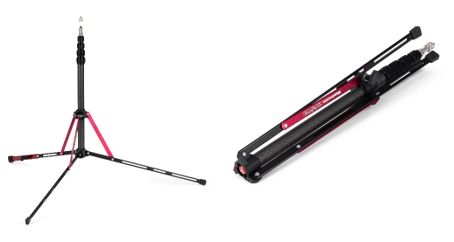 The continuing trend in the Photo and Video industry is for equipment to be smaller, lighter and more portable. Leading lighting manufacturers are moving in this direction too and Manfrotto's range of lightweight supports such as the Nano Stand family complement these products perfectly.
Lighting equipment is getting lighter and so are lighting supports!
Weighing in at only 750g* thanks to it's lightweight aluminium base and carbon fibre column the Carbon Nanopole Stand is the perfect support for small lighting equipment up to 1.5kg such as speedlights and LED lights which are commonly the kit of choice for the weight concious creatives working in and out of the studio.
This lightweight lighting support not only provides users with the perfect stand when shooting on the move, this product is manufactured in Italy to the highest standards providing assurance of quality craftmanship and materials that customers can rely on.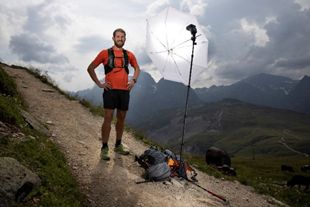 The compact folded length of just 51cm makes the Carbon Nanopole Stand suitable for carry on luggage or ideal for those with very limited carrying space.  It even slides neatly into the tripod pouch on the side of most camera bags to ensure the user can keep their kit compact and travel light without compromising on their lighting kit requirements. The Carbon Nanopole features a useful levelling leg, allowing the user to maintain a stable vertical lighting support even in challenging enviroments such as uneven ground, inner city streets or even rocky hillsides. For added safety the base also features a hook to be used with a sandbag in order to weigh it down when used outdoors. This versatile light stand features multiple attachment options including a stainless steel 16mm (5/8") spigot with a 3/8" thread plus a removable 1/4" thread adapter allowing secure attachment of a wide range of lighting tools.
The light weight characteristics of the Carbon Nanopole is thanks to the removable carbon fibre centre column featuring quick release twist locks, which can also be used as a hand held boom in order to position lights exactly where they are needed.
*750g without 1/4″ adapter
The Carbon Nanopole Stand (MS0490C) will be available in October and has an RRP of £144.95.
For more information, please visit www.manfrotto.com/uk-en/