Lowepro's Redesigned Pro Trekker Ii Series Gets You Ready For The Long Haul
Carry-on compatible and backcountry ready, the Pro Trekker II collection delivers you and your digital imaging gear to your destination without missing a beat.
Lowepro's Pro Trekker Series lets you carry-on essential camera gear
MaxFit™ divider system fits the most gear in the smallest space
Delivers all-day comfort and rugged protection for backcountry destinations
PETALUMA, Calif. – With over 50 years creating protective gear-carrying solutions for professional and enthusiast image makers alike, Lowepro has unveiled the most reliable companion to keep photographic equipment packed, protected and ready for anything. Lowepro's Pro Trekker AW II series has been redesigned and upgraded to deliver greater performance, more utility and convenient versatility.
This full collection meets a photographer's every travel need. From the wayfaring adventure professional to the enthusiast who is serious about his or her hobby, Pro Trekker delivers protection, ease and comfort to photographers and videographers worldwide.
The Lowepro design team worked with long-time ambassador Chris McLennan, to develop this line that ranges from a performance BP 350 backpack for medium-sized pro mirrorless kits to the largest backcountry BP 550 model designed to split into two carry-on ready components. "I have used the Trekker bags for 30 years. The design provides my camera gear with the ultimate protection and makes carrying even the heaviest loads easy – and they are airline carry-on compliant. The ultimate camera backpack in the most extreme environments." says McLennan. Lowepro Trekker products have been Chris' go-to bags for more than 30 years. Chris has been a significant contributor to this latest collection of Pro Trekker designs.
The redesigned Pro Trekker Collection solves the photographer's biggest travel challenges.
Modular 2-piece carry-on design for Backpack 550
Backpack to a roller conversion on Roller 450 model
Stowable Harness on Backpack 350 and Backpack 450 models for easy handling
AW Cover™, Durable Materials, Zippers enhancing protection from the elements
A complete collection to plan and maximize your kit and get you to your backcountry destination.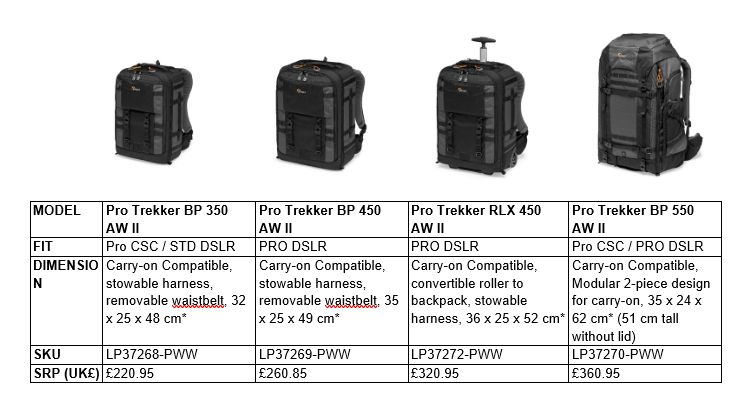 The Lowepro Pro Trekker II full collection will be available mid October from www.lowepro.com and authorised Lowepro dealers.