Keeping the High Street Exciting with PhotoPrintMe! Just Scan the QR code!
'PhotoPrintMe!' by Mitsubishi Electric brings a new business to your store. Our latest solution takes away the expense and concerns of traditional kiosks being offered today bringing a new print dimension to retail with quicker service.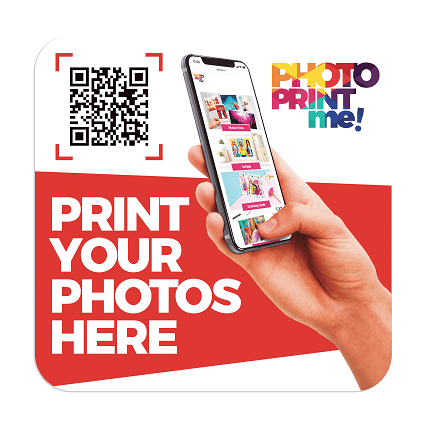 All your walk in customers need to do is scan the QR code choose their image and print. It's as simple as that! They can call up customised print products on their own smartphones, view options and order without having to queue at a touch screen. With no app to install, a QR code takes them straight to a colourful on-line catalogue of products to create on the spot. They can choose pictures on their device and walk out in minutes after paying you.
Prints range from 6 x 2″ to a huge 6 x 20″ long print. Customers also have a choice of greetings cards, calendars, bookmarks, photo strips, albums and miniprints (great for business cards too) which will drive higher value sales when they see them on their own phone screen.
Leave your retail staff free to handle other sales, PhotoPrintMe! is as easy to use as scanning a QR code. With our fast and simple order management all you will need to do is just take the payment and see a happy customer leave.
PhotoPrintMe! is a Mitsubishi Electric retail innovation helping keep the High Street exciting and will help drive your other counter sales and footfall.
Try this QR code: Just scan with your phone camera, it's that simple!