Introducing i1Photo Pro 3 Plus
Obtain more accurate colour and enhanced blacks and shadow details on textured and glossy fine art photo papers!
Professional Colour Management for Photographers
The i1Photo Pro 3 Plus is designed for photographers who are looking for perfectly accurate colour in RGB print workflows, especially on more challenging glossy and textured photo media. i1Photo Pro 3 Plus combines world-class hardware and software to deliver the ultimate professional-level colour management for photo pros.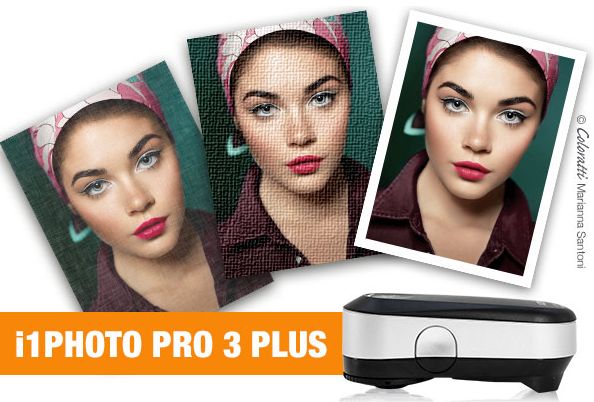 i1Photo Pro 3 Plus calibrates and profiles multiple displays, projectors, scanners, RGB printers and cameras with the included camera profiling software and ColorChecker Classic Mini target.
i1Photo Pro 3 Plus delivers all the features and functions found in i1Photo Pro 2 and more!
NEW i1Photo Pro 3 Plus Features:
• i1Pro 3 spectrophotometer with large aperture (8mm) providing more accurate results with better repeatability
• Polarising filter for improved profiles on textured and glossy photo media to reduce unwanted specular highlights, enhance blacks for better shadow detail and get richer colours on unique surfaces
• LED illumination enables increased reliability with single scan M0, M1, M2, and M3, saving time and improving accuracy
• Supports profiling of transmissive (backlit) materials in RGB printer workflow
• 5000 nit support for calibrating and profiling high brightness displays
• Larger Ruler to accommodate the larger patches when printing on wide format paper
• Kensington Lock port for increased security
i1Photo Pro 3 Plus includes i1Pro 3 Plus spectrophotometer, i1Profiler software for monitors, scanners and RGB printers, ColorChecker Camera Calibration software, ColorChecker Classic Mini target, Pantone Color Manager software and ColorTRUE mobile app.
The all-new i1Pro 3 Plus solutions have been optimised for digital printing on more challenging materials and surfaces – like fine art photo papers, textiles, and ceramics, as well as transparent materials and includes:
Add automation with the new optional i1iO for the i1Pro 3 table specifically designed to support the i1Pro 3 device.
Measure substrates up to 33mm thick with the optional Z-axis spacer.