New 'Entry To Professional' Nissin Flash, Now Available From Kenro
New from Nissin Digital for summer 2019, the i600 is a compact, economical speedlight with TTL and HSS capabilities, as well as a solid GN60 output and 24-200mm zoom. The design is based on the popular Nissin i60A, and contains state-of-the-art flash technology.
This impressive mini speedlight is designed primarily for smaller mirrorless cameras, and serves as an excellent entry point to more professional, powerful flash. Available in fits for Canon, Nikon, Sony, Fujifilm and Micro Four Thirds, this flashgun is just 11.2cm high and weighs 300g without batteries, making it one of the smallest and most lightweight in its performance class, on a par with the i60A. The i600 has a suggested retail price of £189.95 including VAT.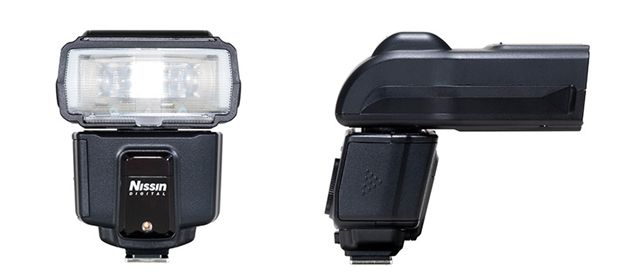 The built-in high speed sync functionality supports up to 1/8000s shutter speed, ideal for open aperture shots such as portrait with background blur, or high speed sports photos, even in bright ambient light.
Various slave settings offer flexible optical wireless flash options, and the beam angle can be adjusted automatically or manually from 24 to 200 millimetres, according to the angle of the lens being used. The flash head is equipped with a built-in diffusor that gives 16mm coverage, and a bounce card that can be extended and retracted even when a soft box is being used.
The flash head can be rotated left-right 180 degrees, and up 90 degrees, allowing photographers to bounce the flash off nearby surfaces for softer, less direct light.
The simple-to-use dial system on the back mirrors the functionality of the i40, with one dial for Mode and another for EV. With clear controls and three indicator lights, even beginners can get started quickly. Flash output can be corrected up to +/- 2 EV in ½ step increments, making this flash a great option whether shooting in a studio or outdoors.
Ideal for compact cameras, this flash measures 112 x 73 x 98mm, and operates on 4 AA batteries, with each new set of batteries lasting for 220-1500 flashes, and a recycle time of between 0.1 and 5.5 seconds, depending on the output used. This flash also features overheat protection and energy saving mode for maximum battery and product longevity.
Also new from Nissin this summer is the LS-55C carbon fibre flash stand. This ultra-lightweight stand weighs in at just 625g, with a maximum height of 2m. The maximum working load is 1.5kg, and it folds down to a highly portable 485mm. The body features 5 twist-lock sections, and one of the reverse-folding legs is adjustable to help level the stand out on an uneven surface. The LS-55C has an SRP of £139.98 including VAT.
Paul Kench, Kenro's managing director, says, "The i600 speedlight is sure to be incredibly popular – this powerful, affordable little unit is a worthy successor to the i40, and means that users no longer need to choose between power and price. Nissin has brought out a number of really high quality new products this year – including the new carbon fibre flash stand, which is amongst the lightest in the world – and they're showing no signs of slowing."
The Nissin i600 and LS-55C flash stand are available to order now from Kenro.