GITZO COMPLETES HEADS RANGE WITH THE NEW 3-WAY FLUID HEAD
Powerful. Compact. Versatile.
A perfect match for the most outstanding photography gear.
• Extremely versatile, optimal precision fluidity and control
• Impressive payload in a lightweight and compact body
• Easy set up and framing with 90° rotating quick release plate/holder, Arca-Swiss compatible
Gitzo, a pioneer in some of the most advanced, revolutionary technologies for professional camera equipment, presents the new Gitzo 3-way Fluid Head. The new head is an innovative solution that provides perfectly smooth, independent movement on all three axes, with friction control for a secure set up. The Gitzo 3-way Fluid Head is designed for professional photographers and promising amateurs, bringing enhanced framing accuracy to a wide array of applications, including long-exposure, stills, and studio portraits. Its lightweight body and patented retractable handles make this model ideal for professional image creators.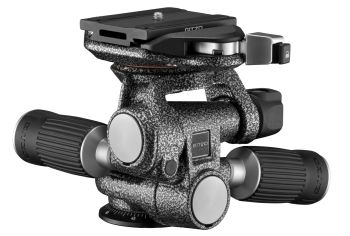 The Gitzo 3-way Fluid Head features an independent fluid cartridge for each axis and guarantees silky smooth, seamless movement, without a trace of stick-slip. This is thanks to Gitzo's new fluid formula that enables flawless movement control, even in extreme conditions (-30°/+70°).
The Gitzo 3-way Fluid Head is made to meet the highest of standards: it features premium design and a stiff, ultra-light magnesium body, weighs less than 1kg and safely supports a payload up to 13kg. Not only is it lightweight, but unlike other fluid heads on the market, the Gitzo 3-way Fluid Head is also extremely compact. With its innovative ergonomic retractable tilt handles, it allows effortless, accurate composition and is the best solution for professional photography styles, working in perfect synergy with all Gitzo tripods, especially from series 2 onwards.
Attach an array of camera models to the Gitzo 3-way Fluid Head in an instant – thanks to the 7cm rubberized Arca-Swiss type plate and quick release holder cameras attach to the head by pressing down firmly against the holder base. Moreover, the quick release base's width is easily adjusted via the side screws for use with other plates.
Benefit from the creative freedom of greater working space and framing versatility with the new 90° rotating quick release plate holder. Use the 3-way fluid head with your favourite large-base tripods, like the Gitzo Systematic, and enjoy switching from portrait to landscape instantly, with effortless overhead or underneath shots. Achieve accurate framing on all axes thanks to the rotating bubble level. Gitzo's new 3-way fluid head is offered as a stand-alone model or as a kit with the Gitzo Mountaineer tripod.
The new Gitzo 3-way Fluid Head is available at £439.95. It is also available in a kit with Gitzo Mountaineer tripods starting from £1,189.95.
For more information head to https://www.gitzo.com/uk-en/