Kenro prepares to launch Forza Series from NanLite
Nanguang evolves into nanlite, with a strong range of new products to launch the brand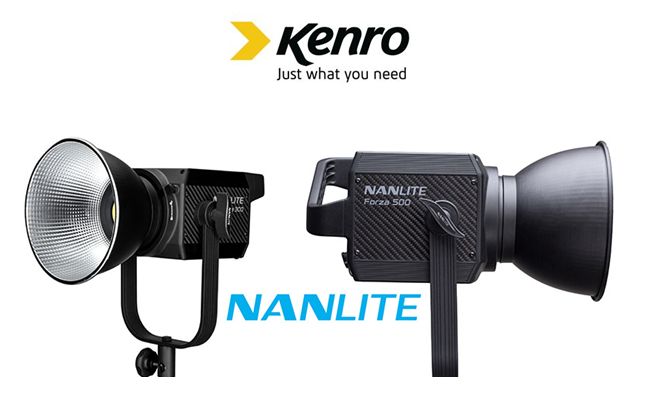 NanGuang was created in 1992, and since then has established itself as a leading light in the LED market, thanks to a team of incredibly passionate engineers and product designers who are obsessed with quality and detail. They have over 100 patents to their name, and a worldwide reputation for exceptional products.
The secret to NanGuang's quality lies in their complete management of the product's entire lifecycle. At their vast research, development and manufacture facility, their experienced and knowledgeable team handles everything from conception to development, from manufacture to quality control. All the components are produced on site, giving NanGuang full oversight of everything that goes into their products.
Already known for innovation, the NanGuang brand is evolving to reflect their position as a major player in the worldwide LED lighting market. The new branding was unveiled at the NAB show this year: NanGuang will now be known as NanLite. The new branding is being launched with a strong range of new products, available in the UK and Ireland soon through official distributors, Kenro Limited.
NanLite's all-new Forza Series of monolights each feature one COB LED and produce truly incredible brightness for their power and size. The most powerful light in the series, the Forza 500, is a 500W light that is just 31cm long on its longest side, weighs 2.6kg, and can produce a dazzling 66300 Lux at 1m.
There are two other lights in the series: the basic model, the Forza 60, draws 60W of power, is less than 20cm long, weighs 800g and produces up to 11950 Lux at 1m. The mid-range model is the Forza 300, which draws 300W of power, is 31cm long, weighs 2.3kg and produces up to 43060 Lux at 1m.
These tiny units all boast CRI (Ra) 98 and TLCI 95, with a colour temperature of 5600K. They feature stepless dimming 0-100%, and a number of built-in special effects such as flash, storm, TV, and flickering (faulty) bulb. The control panel is separate from the light unit, allowing easier access to controls when the light is placed high up or in a tight space, and the light can also be controlled via 2.4G wireless signal or DMX.
All three lights can be battery powered, with the Forza 60 taking Sony NP-F type batteries, and the 300 and 500 each taking Sony V-mount style batteries.
These lights produce unrivalled power for their size and price point. Full details, pricing and pre-order information will be available soon from UK distributor Kenro Limited.
Other products leading the charge for the new NanLite range are the LumiPad Series (formerly known as Luxpads), the Compac Series (producing brightness to rival a softbox in a compact package), and the already popular PavoLite Tubes (special effects RGB tube lights).
Kenro's managing director, Paul Kench, says: "This is an exciting time for Kenro as we prepare to launch the new NanLite brand and bring their next-generation Forza lights to the UK. These amazingly compact units really are impressively bright, and we know they're going to make a huge impact when we bring them to market this summer."
Check website for more infomartion