Lowepro Introduces New Collection of Versatile Outdoor Backpacks
Lowepro's new Photo Active™ backpacks are made for photography, made for the outdoors, made for adventure, made for you!
• Photo Active goes anywhere, carries anything and fits right in with your everyday life
• Designed for today's mirrorless and pro mirrorless kits
• Dual side access panels offer quick access to camera and gear
Petaluma, California, – Lowepro, a company with a 50-year reputation in creating protective gear-carrying solutions for image makers, announces the launch of the Photo Active collection of backpacks. Great for a weekend hike or big travel adventure, Photo Active is made for today's top mirrorless and pro mirrorless kits and more. The range provides go anywhere, carry anything solutions for enthusiast photographers/active creatives who also carry lightweight, rugged outdoor gear.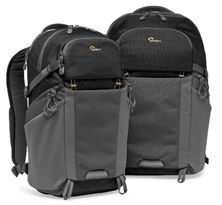 Lowepro recognizes their customers are more than image makers and is continuously inspired by the creator's journey. This new collection embodies Lowepro's Capture Life brand campaign, based on the notion of capturing not just planned shots, but the compelling content (life) that presents itself along the way. Lowepro understands that creators need a pack that carries and protects imaging gear plus whatever their adventure calls for that day. Made for photography, made for adventure, made for the journey – the Photo Active collection is, ultimately, made for you.
The Photo Active collection features 3 points of entry for easy access to gear in any part of the pack. The 50/50 gear split provides organization for a wide variety of gear such as cameras, drones, clothing, travel gear, laptops, tablets and hydration reservoirs whilst the QuickShelf™ customizable divider system allows users to easily configure the bag interior for the day's gear set. The dedicated CradleFit™ laptop compartment suspends and protects up to a 13-inch laptop in the BP 200 model and up to a 15-inch laptop in the BP 300 model, then converts to carry a hydration reservoir for active outdoor use. The ergonomic, ventilated ActivZone™ back panel offers all day carrying comfort, and the All Weather AW Cover™ protects pack from the elements. Don't miss the two harness pockets for sunglasses, sunscreen or earbuds, removable waist belt, tricot-lined top stash pocket for glasses, phone, wallet or ID plus dual side stretch pockets for water bottle/compact tripod and exterior trekking pole attachment points.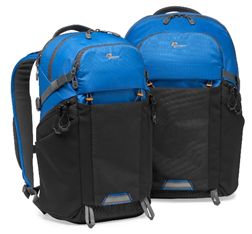 Photo Active is available in two sizes, BP 200 and BP 300, and two colors, Black/Dark Gray or Blue/Black.
Pricing starts from £149.95 for the BP 200, and £174.95 for the BP 300. The Photo Active series will be available towards the end of June. For more information head to www.lowepro.com